Summer Movie Venues in Boston
Where to watch outdoor summer movies in Boston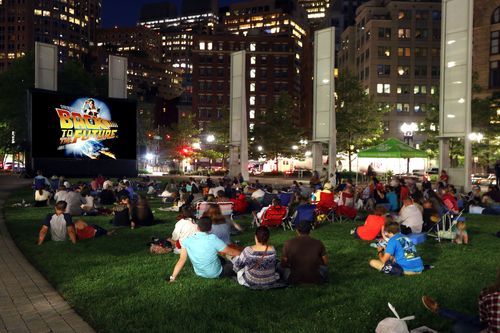 Summertime means grabbing a blanket and some snacks, and watching a free movie outside. And luckily, there are quite a few outdoor movie series to choose from in the Boston area.
==============================================================
Here's a great list of Summer Movies under the stars in and around Boston that we can look forward to in 2022.
Mayor's Summer Movie Nights in the Parks
The Mayor's Movie Nights are part of the Boston Parks and Recreation Department's ParkARTS program. Held in August and September, the shows begin at dusk. Come enjoy popular films under the night skies in Boston city parks.

All shows begin at dusk (approximately 7:45 p.m.)
2022 Summer Movie Schedule
AUG 2
Jamaica Plain Movie Night: The Mitchells vs. The Machines
JAMAICA POND - PINEBANK
JAMAICA WAY AT MORAINE STREET

AUG 9
Roslindale Movie Night: Sing 2
HEALY PLAYGROUND
160 FLORENCE STREET
ROSLINDALE, MA 02131


AUG 15
East Boston Movie Night: Luca
EAST BOSTON MEMORIAL PARK
143 PORTER STREET
EAST BOSTON, MA 02128


AUG 16
Dorchester Movie Night: Shang-Chi and the Legend of the Ten Rings
RONAN PARK
92 MT. IDA ROAD
DORCHESTER, MA 02122


AUG 17
Roxbury Movie Night: Space Jam: A New Legacy
MARCELLA PLAYGROUND
260 HIGHLAND STREET
ROXBURY, MA 02119
AUG 22
Hyde Park Movie Night: Encanto
IACONO PLAYGROUND
150 READVILLE ST
HYDE PARK, MA 02136


AUG 23
South End Movie Night: Soul
RAMSAY PARK
1917 WASHINGTON STREET
SOUTH END, MA 02118


AUG 25
Charlestown Movie Night: Encanto
WINTHROP SQUARE
55 WINTHROP STREET
CHARLESTOWN, MA 02129


AUG 29
Brighton Movie Night: Raya and the Last Dragon
HARDIMAN PLAYGROUND
360 FANEUIL STREET
BRIGHTON, MA 02135


AUG 30
South Boston / Seaport Movie Night: Soul
MOAKLEY PARK
1005 COLUMBIA ROAD (NEAR ROLLER HOCKEY RINK)
SOUTH BOSTON, MA 02127

SEPT 1
Downtown Movie Night: Willy Wonka and the Chocolate Factory
BOSTON COMMON - FROG POND
38 BEACON STREET
DOWNTOWN, MA 02116


Coolidge on the Greenway: 2022 Summer Movies Series
Experience cinema classics under the stars! The Coolidge is thrilled to be partnering with the Rose Fitzgerald Kennedy Greenway Conservancy for a free outdoor screening series this summer.
2022 Movie Lineup (Wednesdays)
6/15 - The Birds (35mm)
35MM
7/13 - Tremors (35mm)
35MM
8/10 - Fast 5 (35mm)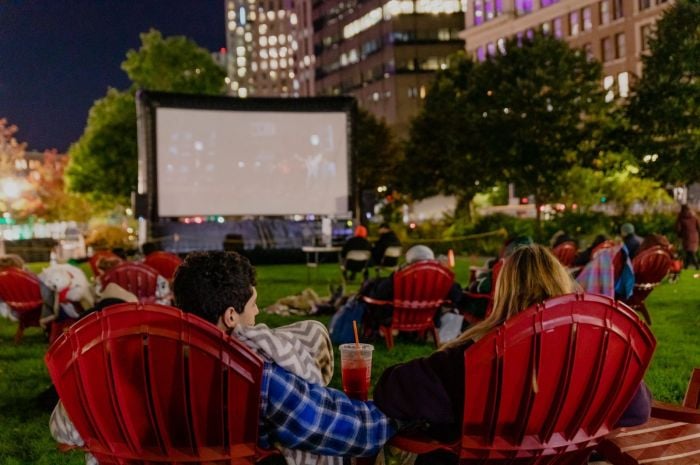 CX Movie Nights at Maria Baldwin Open Space at CX
CX Movie Nights returns to Cambridge Crossing in partnership with the Brattle Theater and East Cambridge Business Association (ECBA) for a free double-feature movie series, taking place on June 30 and July 28 from 5:30 pm – 9:30 pm in the Maria Baldwin Open Space at CX.
Enjoy a family and pet-friendly night of movies, popcorn, and food trucks.
<b>June 30</b> Moana at 5:30 pm and School of Rock at 7:30 pm.
<b>July 28</b> Encanto at 5:30 pm and Mrs. Doubtfire at 7:30 pm.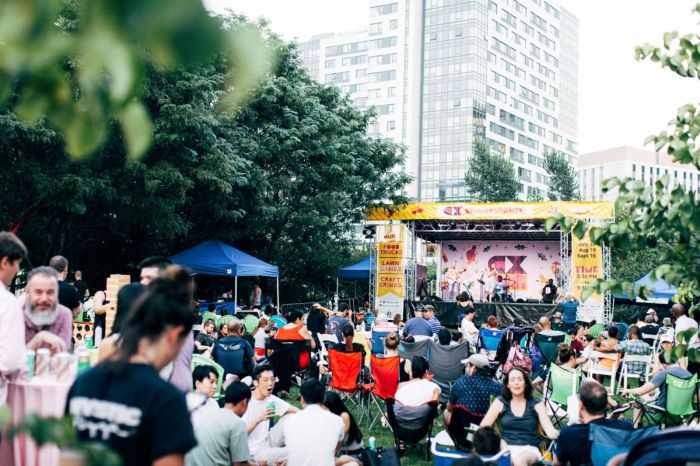 photo courtesy of CX
Family Flicks at Prudential Center
Family Flicks at Prudential Center (formerly know as Family Film Festival) features free, family-friendly movies on Prudential Center's South Garden every Saturday starting on July 9th. All movies will start at dusk.
<b>2022 Movie Schedule:</b>
July 9th: Encanto
July 16th: Shrek
July 23rd: The Parent Trap
July 30th: Luca
August 6th: Space Jam
August 13th: Tangled
August 20th: Sing 2
August 27th: Trolls: World Tour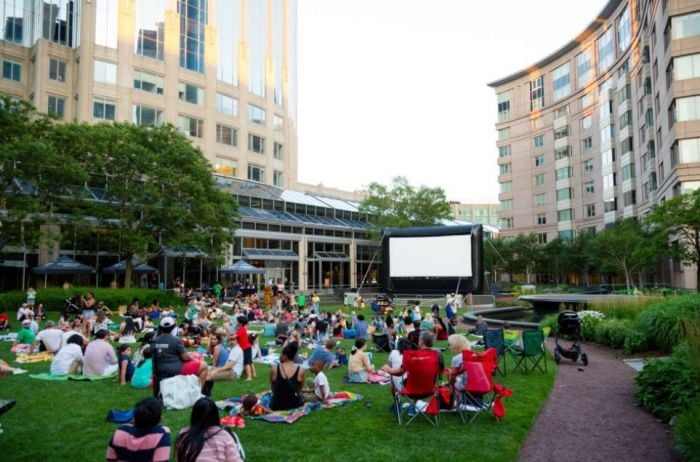 photo courtesy of Prudential Center
Dockfest Movies Nights at The Anchor Boston (awaiting info)
Movie nights are back at The Anchor and we're kicking it off with a Patriotic start during Dockfest! Join us Monday July 5th - Wednesday July 7th for some festive classics:
Monday July 5, 2021: Top Gun
Tuesday July 6, 2021: National Treasure
Wednesday July 7, 2021: Independence Day
Seating at 8:30pm, movie starts just after sunset.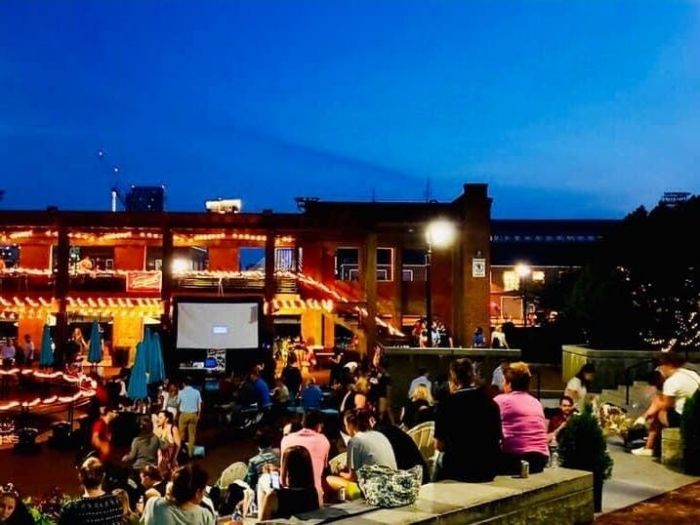 photo courtesy of The Anchor, Boston
Free Outdoor Movies at Patriot Place (awaiting info)
Patriot Place will be hosting a free, family-friendly outdoor movie series at the Enel Plaza outside of Patriots ProShop and the Patriots Hall of Fame on Wednesday nights throughout the summer.
Guests can reserve their seats beginning at 6 p.m. and each showing will begin at sunset.
Hammond Castle Summer Movie Series ($) - Gloucester
Come have a unique summer experience with a big screen movie on the oceanside lawn of Hammond Castle Museum!
Bring a picnic dinner, chairs or a blanket, and come early to spend time on the back lawn or stroll around the Castle.
2022 Summer Movie Lineup (awaiting info)
- Doors open at 6pm.
- Admission: ($20 Adults, $10 children 6-12, children 5 & under free)
- Movies starts at sundown (approx. 8pm)
**We are still awaiting info for the following venues for 2022. Stay tuned!**


Kung Fu Films at the Chinatown Gate (TBD)
The Asian Community Development Organization (ACDC) presents Films at the Gate. (Stay tuned for 2021 dates). Each of the three nights of film showings includes a live performance, two short films, and the main feature. The classic films are action-packed with kung fu scenes and are accompanied by English-subtitles.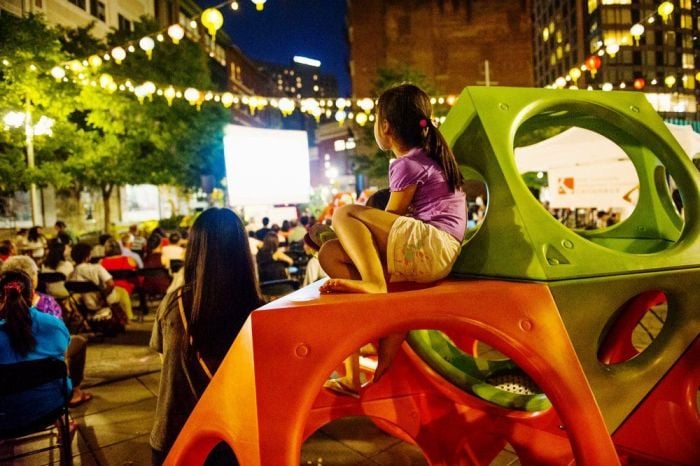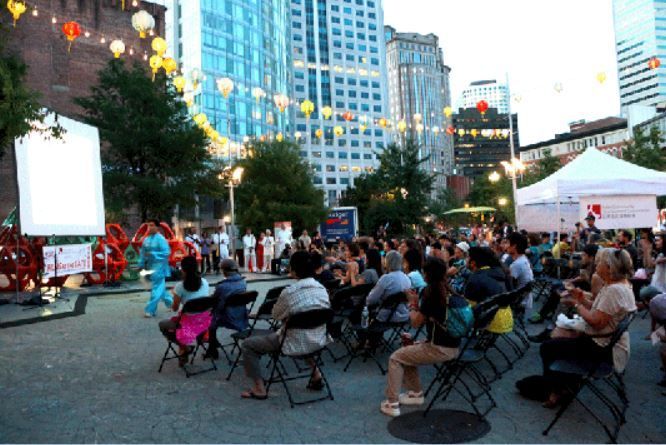 MFA Sunset Cinema (awaiting info)
The Museum of Fine Arts MFA Sunset Cinema will host free monthly movies on its Huntington Avenue lawn. The movies will start around sunset, and live music, art making, and lawn games will kick off 90 minutes beforehand. Beer, wine, and snacks will be available for purchase.
2022 Summer Movie Lineup
*Stay tuned for information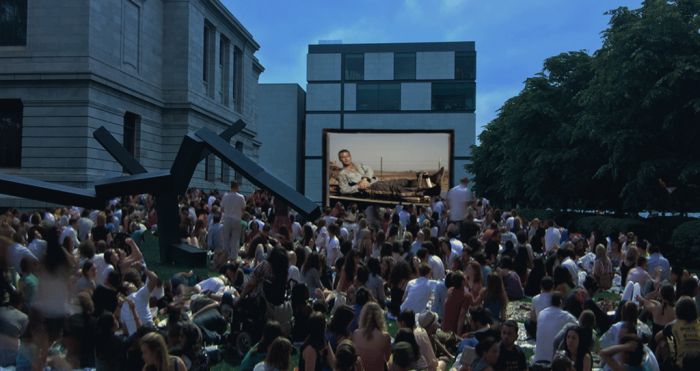 Movies at the Mansion - Lyman Estate, Waltham (2022 Dates PENDING)
Bring your picnic dinners to the Lyman Estate in Waltham for a glamorous movie night under the stars. Movies are shown in the estate's gardens, which you can explore if you arrive early!
*Stay tuned for information


Sunday Night Movie Series at Christopher Columbus Park (awaiting info)
Pack a picnic to take to Christopher Columbus Park for one of these Sunday night films, which will begin at dusk. Free popcorn courtesy of Joe's American Bar & Grill. Sunday Night Movie Series at Christopher Columbus Park
2022 Summer Movie Lineup TBD
Sunday, July 18:
Sunday, July 25:
Sunday, Aug.1:
Sunday, Aug. 8:
Sunday, Aug. 15:
Sunday, Aug. 22: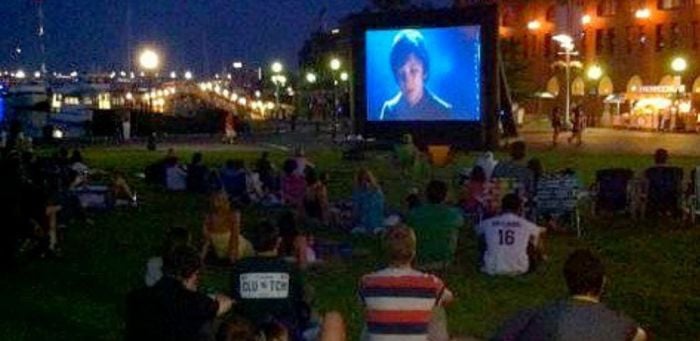 Summer Movie Series at The Davis Museum (*Awaiting Info for 2021)
Take advantage of the warm summer nights and join us outdoors on the Davis Plaza for the 4th annual summer film series in Wellesley. Summer Movie Series at The Davis Museum
2022 Summer Movie Lineup TBD
*Stay tuned for information

2022 Movies on the Boston Common Schedule
*Stay tuned for information
Lincoln Summer Family Movie Night
Movie TBD (Family Movie Night at Pierce Park)
Sudbury Summer Family Movie Night (TBD)
ParentTalk Flicks on the Field - Needham (*Awaiting 2022 Info)
Flicks on the Field offers families in and around Needham an opportunity to enjoy a summer night snuggled up on a blanket under the stars. Parent Talk is thrilled to offer the community a way to connect with family and friends.
Stay tuned for information
6:30 pm Younger Children's Activities and Concessions,
7:45 Movie Begins
Summer Movie Nights at Boston Landing
Bring a blanket, pack a picnic and enjoy free summer movies on the rolling green hills at Boston Landing's Athlete's Park! Movie schedule to be announced. Refreshments and beverages are available for purchase.
Wakefield's Summer Movies by the Lake
Residents and people from surrounding towns can look forward to another season of Movies by the Lake in Wakefield this summer. Grab a blanket, snacks, kids and neighbors and head down to the bandstand near Lake Quannapowitt for some outdoor summer movie fun!
2021's family-friendly movie lineup TBD: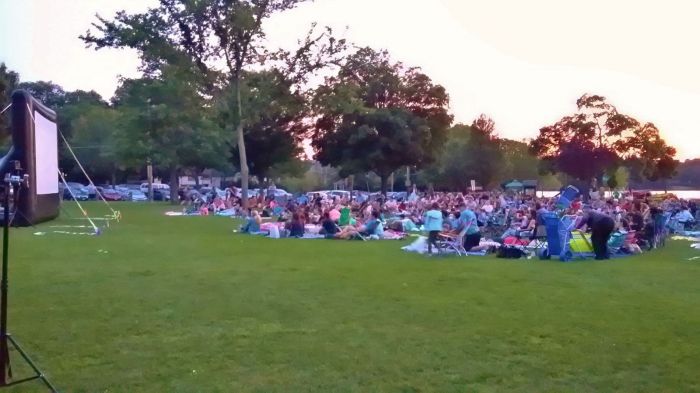 Movies are located by the bandstand at Lake Quannapowitt in Wakefield, MA and begin at nightfall.
==============================================================
Drive-In Movies Near Boston
In addition, more and more venues have started offering special Drive-In movie options, so take a look at our guide to what's been announced so far to see where you and your family can enjoy a drive-in movie near you this summer.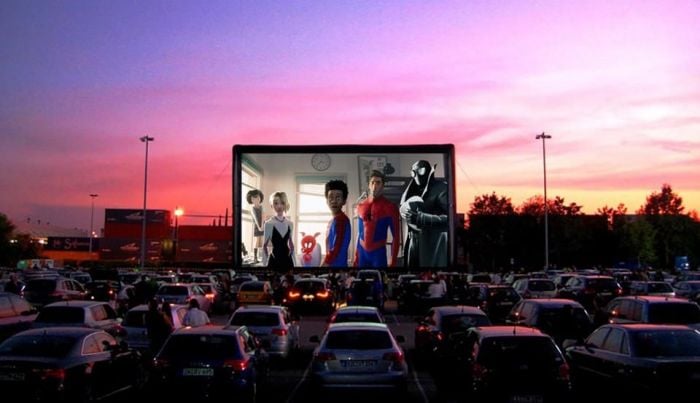 While not free, you can usually get into a Drive-in movie for one price per carload, and experience a big screen movie from the comfort of your own car with friends and family.
Mendon Twin Drive In (Milford)
Kowloon Car Hop & Movie Nights (Saugus)
Wellfellet Drive-In (Cape Cod)


More Ideas for Summer Fun!
Find Fun Things to Do on our events calendar as Summer Begins in Boston.
There are so many fun things to do for free in Boston - check out our guide for more money-saving ideas for family fun.
You can find lots more family-friendly Boston events each week on the BostonCentral calendar and our popular things to do this week newsletter.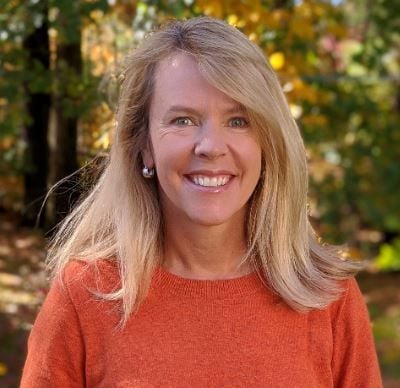 Stacey Sao has been the Managing Director of the family-friendly events and activities website, BostonCentral for over 20 years. She continues to enjoy discovering and exploring new places to visit in the Greater Boston area.