Tuesday, November 22, 2022

Happy Thanksgiving! Tis the season for giving thanks, turkey, gravy, stuffing, cider, root vegetables, and delicious pies. For those of you who are lucky enough not to have to travel over the holiday - here's the lowdown on how to entertain your guests this week. If you are hosting the big day this year, we have lots of fun ideas on where to go and what to do, once the delightful meal is over, and beyond.
Boston Metro
Boston Christmas Tubas at Downtown Crossing - Boston
Get in the holiday spirit Experience lots of local tuba players playing your favorite holiday tunes Downtown Crossing is proud to host the...
Sunday, Nov 27

Soccer Shots: Boston's Premier Indoor Soccer Program
Kick off the winter season with Soccer Shots: Boston's premier soccer program for children 2-9 years old. We bring fun and engaging programs to indoor locations all over the Boston area. The season kicks off in December, so save your spot today!
Franklin Park Turkey Trot 5k - Dorchester
Start your Thanksgiving Day with a run or walk on the beautiful paths of our crown jewel of the Emerald Necklace, Franklin Park The scenic...
Thursday, Nov 24
Annual Holiday Trellis Lighting - Boston
The blue lights on the trellis will be turned on the Monday before Thanksgiving as they have been since 2003! Enjoy holiday sing-alongs and a visit from Santa Claus!
Monday, Nov 21
KISS 108's Turkey Toss at Assembly Row - Somerville
This zany local tradition returns as area high schools vie to be named champs as they hurl frozen turkeys into the air for the furthest throw....
Wednesday, Nov 23
GIVEAWAY ALERT - 4 Tickets to Art of the Brick - Boston
Experience The World's Most Popular Display of LEGO Art - over a million LEGO bricks transformed into over 70 sculptures by artist Nathan Sawaya.
Enter to Win a Family 4-pack of tickets today!
Copley Square Tree Lighting 2022 - Boston
The Boston Parks and Recreation Department, and The Friends of Copley Square will welcome revelers to the annual Copley Square Tree Lighting....
Monday, Nov 28
Downtown Crossing Holiday Market 2022 - Boston
Downtown Crossing Holiday Market: Shop at this outdoor holiday village There will be artisan foods, original jewelry, and works in metal, clay,...
Friday, Nov 25 - Saturday, Dec 17
Celebrate with Wampanoag Nation Singers and Dancers - Boston
The Celebrate series, appropriate for family audiences and children ages 5 and up, highlights Americas rich cultural diversity through the...
Friday, Nov 25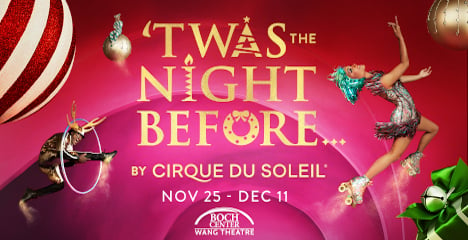 Twas the Night Before... A Cirque du Soleil Holiday - Boston
An exhilarating spin on the beloved Christmas tale. This festive show brings a flurry of love, Christmas cheer, thrilling acrobatics and hugely lovable characters that will create a new holiday tradition for families to cherish.
November 25 - December 11, 2022
Holiday Ship Lighting in Martin's Park - Boston
Please join us November 26, 2022. 4 - 6 p.m. for our 2nd annual Holiday Ship Lighting in Martin's Park. Welcome Santa who will be arriving by...
Saturday, Nov 26
SoWa Winter Festival - Boston
For your holiday shopping pleasure, weve assembled 100+ of the regions best makers, artists, designers, and specialty vendors together under...
Friday, Nov 25 - Sunday, Dec 11
Santa in the City - Boston
Capture the magic of the holiday season by visiting Santa in his new home We are thrilled to welcome the man in red back in person this year,...
Fri, Sat, Sun, Nov 25 - Dec 24
North Suburbs
Holiday Zoolights: Stone Zoo 2022 - Stoneham
This winter wonderland attracts thousands of visitors each year who get into the holiday spirit by strolling along a winter wonderland of tree-lined...
Friday, Nov 18 - Sunday, Jan 8
Real Pirates Exhibit - Salem
During the early 1700s, Bellamy captured the infamous slave ship Whydah, as well as more than 50 other ships, earning him the nickname the Prince...
Thursday, Apr 21 - Friday, Dec 30
Sea Festival of Trees: A Magical Holiday Wonderland - Salisbury
Experience the joy and excitement of the Seacoasts most popular holiday tradition with glittering trees, indoor ice skating, Santa visits and...
Fri, Sat, Sun, Nov 19 - Dec 4
Game Night: Tabletop Gaming & The Hammond Naval Warfare Game Release - Gloucester
Tabletop Gaming with a variety of great games for players, (a first come, first serve basis), including but not limited to: Dixit, Risk, Fluxx,...
Friday, Nov 25
South Suburbs
Gardens Aglow - A Celebration of Holiday Lights - Sandwich
This year Heritage will continue the celebration of lights that has become a treasured holiday tradition with a fully outdoor experience. Enjoy...
Fri, Sat, Sun, Nov 25 - Dec 23
La Salette Festival of Holiday Lights 2022 - Attleboro
This is one of the most beloved and popular Christmas displays in the state. Over 300,000 lights are spread over 10 acres of winter wonderland....
Thursday, Nov 24 - Sunday, Jan 1
Winter Lights at Naumkeag, The Bradley Estate & Stevens Coolidge - Canton
This holiday season, three of our beautiful garden properties sparkle with thousands of shimmering, artfully designed holiday lights. Bring the...
Friday, Nov 25 - Saturday, Jan 7
Christmas Parade & Festival presented by the City of Quincy - Quincy
The City of Quincy presents the annual Christmas Parade and Festival, including the ceremonial Tree Lighting, annual Christmas parade and Santa...
Friday, Nov 25 - Sunday, Nov 27
2022 Christmas Wonderland - Carver
Holiday fun for all ages at Edaville's Christmas Festival of Lights Come enjoy vintage amusement rides, thousands of holiday lights, visit with...
Thu, Fri, Sat, Sun, Nov 10 - Jan 1
The Nutcracker at Fall River - Fall River
No holiday season is complete without seeing this beloved holiday classic, see it again or start a new tradition. Young audience members are...
Sunday, Nov 27
West Suburbs
Commonwealth Ballet's The Nutcracker: A Family Tradition - Weston
The Commonwealth Ballets production of The Nutcracker is renowned for its intimacy, humor, musicality and exciting dancing.
Fri, Sat, Sun, Nov 25 - Dec 18
Festival of Trees and Snow Village at Mass Hort Society - Wellesley
Mass Hort Societys Festival of Trees showcases over 65 beautifully decorated trees, raffle, and features Snow Village― a magical exhibit...
Wed, Thu, Fri, Sat, Sun, Nov 25 - Dec 30
Everyday Engineering: Cup Towers - Acton
Engage in some everyday engineering Challenge yourself to build a one-of-a-kind tower made entirely out of cups. How high can your stack 'em?...
Friday, Nov 25 - Saturday, Nov 26
Shrek, the Musical - Needham
Needham Community Theatre presents Shrek, the Musical This fun, family-friendly show is sure to make even the most surly ogres laugh out loud....
Friday, Nov 18 - Sunday, Nov 27
Fall Family Scavenger Hunt - Westwood
The Fall Family Scavenger Hunt is a self-guided adventure that invites explorers to hike scenic trails, complete fun activities, learn about...
Friday, Nov 25
Holiday Market Place at LexArt - Lexington
LexArt's Annual Holiday Marketplace Beautifully handcrafted creations in many different mediums made by local fine artists and craftspeople....
Tue, Wed, Thu, Fri, Sat, Sun, Nov 27 - Dec 24
Sudbury Art Association Holiday Market - Sudbury
Sudbury Art Association Holiday Market- Annual Artisan Market happening now Come shop locally made, fine arts and crafts. Open daily until December...
Friday, Nov 11 - Saturday, Dec 24
Black Friday Character Visit at Jam Time Maynard - Maynard
Come spend your Black Friday playing at Jam Time and meet Mirabel Mirabel visit from 10:00 am 11:00 am. Doors open at 9:00 am
Friday, Nov 25
Seasonal Guides
Boston Turkey Trots
What better way to kick of your Thanksgiving celebrations than by running a Boston area Turkey Trot!? Turkey Trots have a long, rich history and they have become almost as much of a Thanksgiving tradition as the turkey itself!

Holiday Light Displays Celebrations & More...
Many cherished holiday traditions are back, including festive shows & performances, and lots of joyful holiday light displays in the area.

Boston Holiday Events & Performances 2022
Many cherished holiday traditions are back, including festive shows & performances. Enjoy the glistening lights, holiday concerts, and shows happening throughout the city once again.

Thank you for being a part of the BostonCentral Community
If you enjoy our events & activities...
Please recommend us to a friend :-)
Stacey Sao, Managing Director
BostonCentral.com
Contact us to Advertise on BostonCentral.
© BostonCentral 2002-2018. 6 Kendra Lane, Sudbury, MA 01776 Manage My Subscription: Subscribe or Unsubscribe