Things to Do near MIT
Cool places to explore around MIT and Cambridge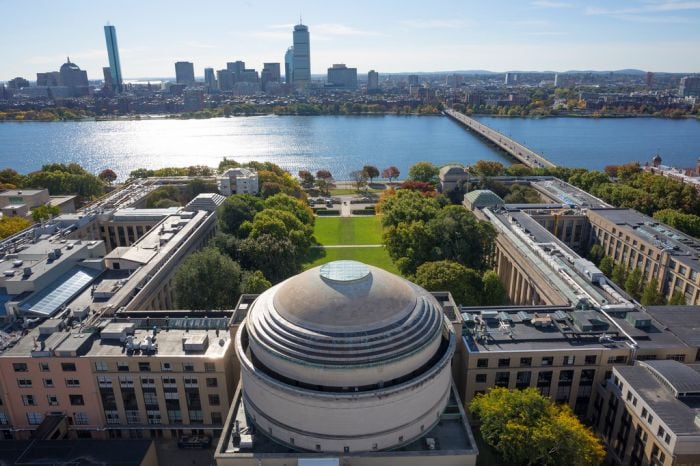 Massachusetts Institute of Technology
The MIT campus is located in Cambridge, MA - about a 15 minute walk across the Charles River from Boston. Harvard Bridge (ironic, right?), is the longest bridge over the Charles River at 2,164.8 feet, (or 364.4 smoots). If you are looking for some fun things to do nearby, here's a few of our favorites to explore while you are in the area.
MIT Museum
A showcase for MIT innovation — past, present, and future The MIT Museum is located in Kendall square in Cambridge. The main gallery features a host of science and tech exhibits. We love the kinetic machines and the holograms upstairs.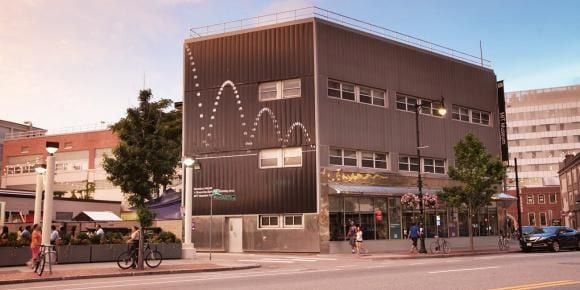 Harvard Museum of Natural History
Explore 12,000 specimens drawn from Harvard's vast research collections at the University's most visited museum -- dinosaurs, meteorites, gemstones, and animals from around the globe. Harvard Museum of Natural History frequent hosts family programs, lectures and classes and offers free admission to MA residents on Sundays from 10-12pm.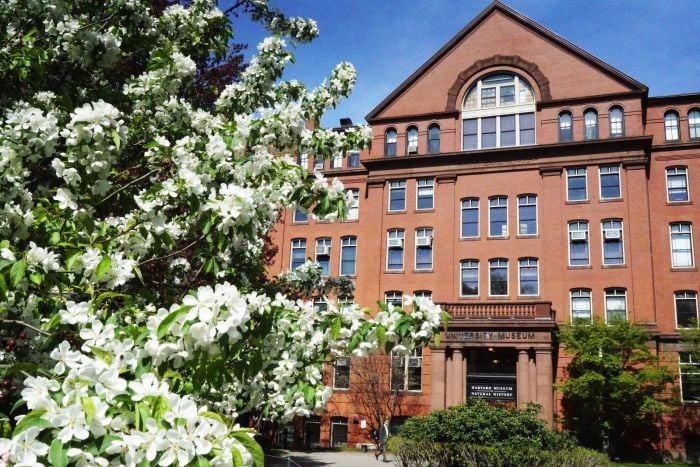 Peabody Museum of Archaeology & Ethnology
RIght next door, Harvard's Peabody Museum of Archaeology and Ethnology is one of the oldest museums in the world devoted to anthropology. The Museum offer regular family exploration program and is also free on Sunday mornings for Mass. residents.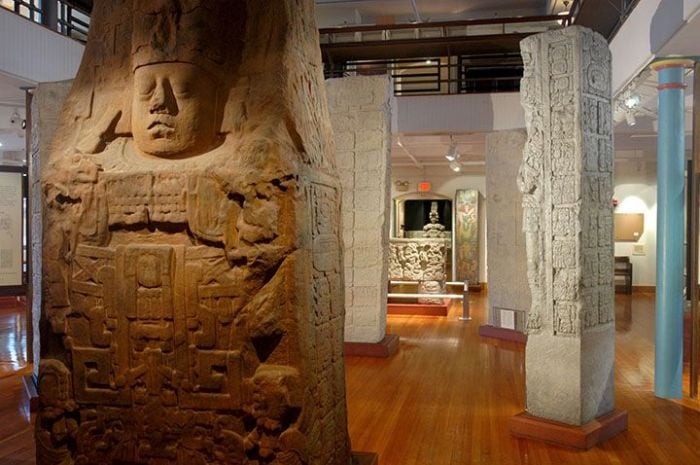 Anytime is a great time to get out and explore all of the wonderful Boston Museums. Here's a quick roundup of some of our favorite can't miss venues. Most offer discounts to college students with an ID, and MA residents can obtain passes via their local library.
Neighborhoods to visit in Cambridge
Exploring Boston
Free Things to Do in Boston
You don't have to spend a lot of money to enjoy quite a bit of what Boston has to offer. Some of the best things in Boston really are free (or almost free). Enjoy our helpful guide to some of the best free things to do in Boston - which is music to college student ears.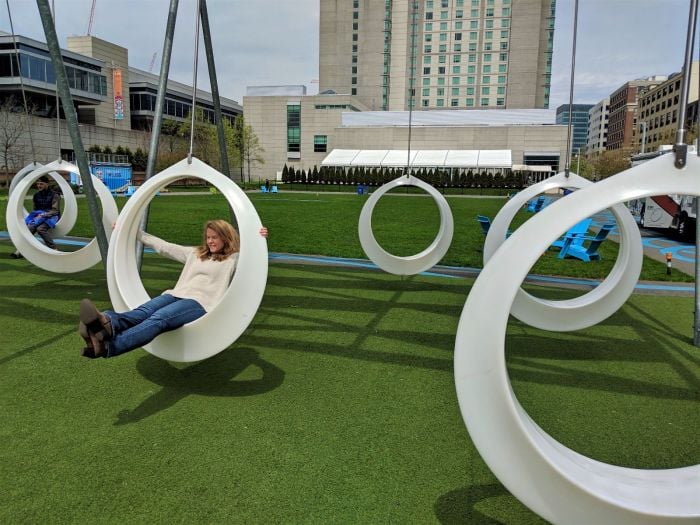 photo credit: BostonCentral


Boston Public Garden
The Boston Public Garden is the oldest public park in the country, with swan-boat rides in the park's lagoon, beautiful winding paths and impressive gardens. Lots of benches to sit and relax. Visitors and locals alike will enjoy the stately and mature specimen trees, sculptures like Make Way for Ducklings, fountains and more

photo courtesy of Friends of the Public Garden


Boston Common
Boston Common is Boston, Massachusetts' most famous public park and the oldest city park in the United States, dating as far back as 1634. It is 50 acres in size. This space is open for all to use for formal or informal gatherings, or just to enjoy the park and its surroundings.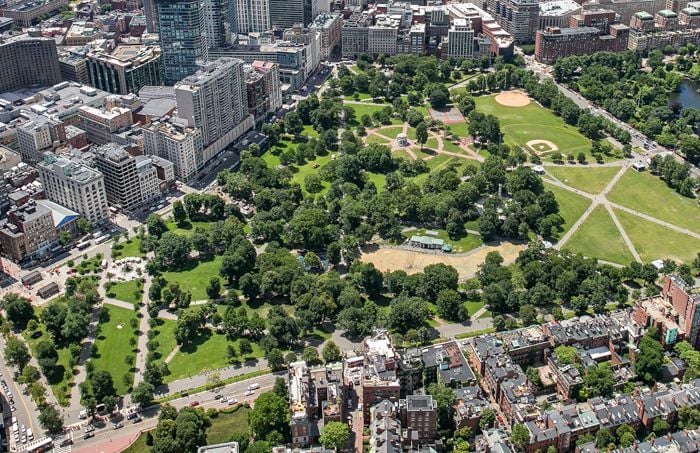 photo credit: Kyle Klein


Summer is a great time to think about heading to the beach! There are actually quite a few beaches in Boston, and then, of course, there are some favorites that you must try on the north and south shores. Nothing beats a great day at a Boston beach!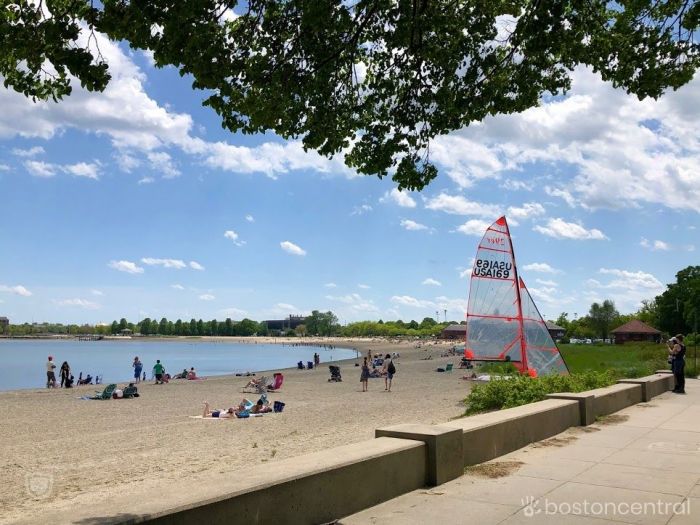 Things to do in Boston on a Rainy Day
When it rains, or snows, or sleets in Boston, it's helpful to know about fun things to do indoors, so you can still enjoy the day. Rainy day activities in Boston can actually be great options on any day - but sometimes the weather just calls for indoor activities.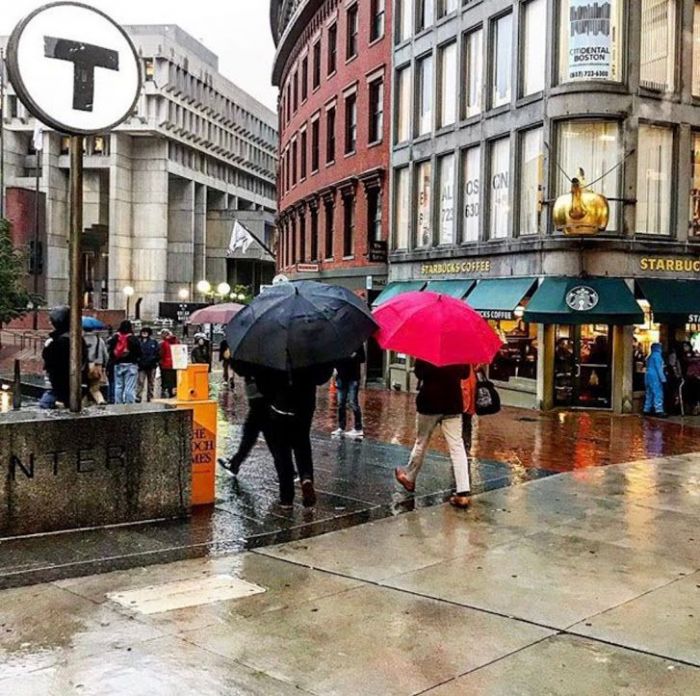 Boston Museums
Anytime is a great time to get out and explore all of the wonderful Museums in Boston. Here's a quick roundup of some of our favorite can't miss venues. Most offer discounts to college students with an ID.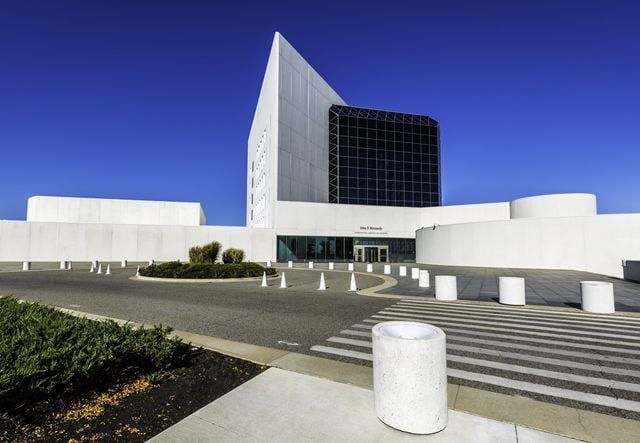 photo credit: BostonCentral
The Museum of Fine Arts, Boston
The Museum of Fine Arts (MFA) is located right across the street from Northeastern. Area college students and participants in the University Membership program receive free admission.
The museum features a number of visiting exhibits throughout the year along with its rich collection of permanent works. In addition, you can attend a variety of workshops, tours, classes and special events, like, outdoor summer concerts and free movie nights during the summer.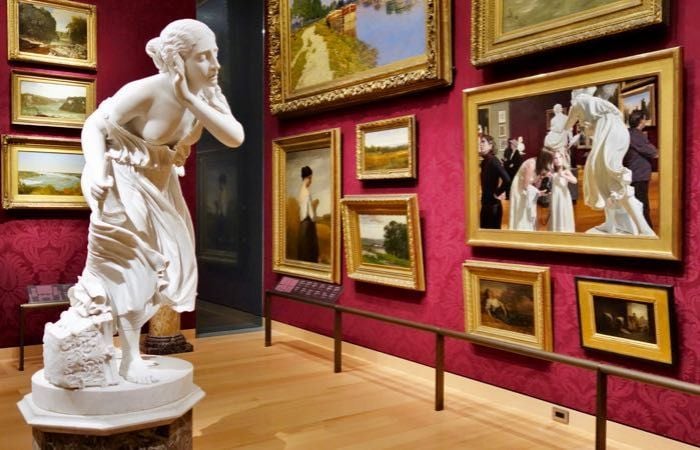 Isabella Stewart Gardner Museum
One of our favorite hidden gems, The Isabella Stewart Gardner Museum is located just a few blocks from the MFA on Fenway Court. Admission for College Students with ID is just $10, and admission is free to visitors under 17 and anyone named' Isabella'.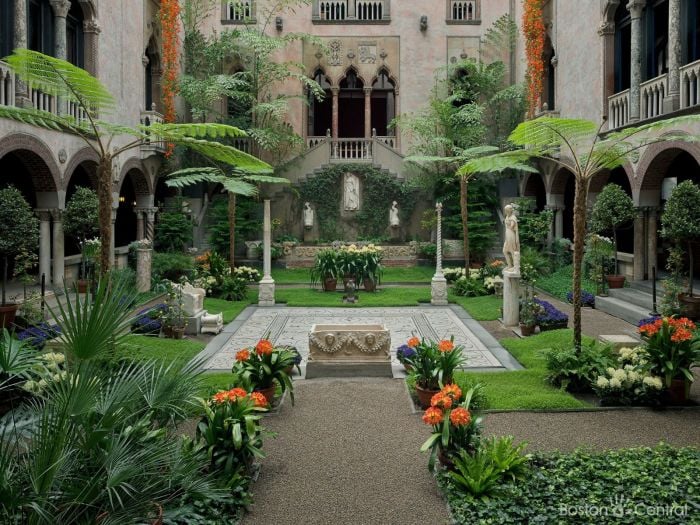 The Rose Kennedy Greenway
The 17 acre green ribbon of the Rose Fitzgerald Kennedy Greenway ("The Greenway") is a true treasure to the city of Boston.

Born of the Big Dig that sank major highways beneath the city, the Greenway winds its way 1.5 miles through downtown Boston. There are lots of things to see and do along Greenway, including rotating art installations, Food trucks, a carousel, Faneuil Hall & Quincy Market, The Boston Waterfront, and lots more.
The Lawn on D
The Lawn on D is an urban park oasis for all ages near the Boston convention center. The park features art installations, live music, a tented food area, very cool LED illuminated circular (think glowing) swings, and so much more. The park attracts many young people in the area due to its cool features.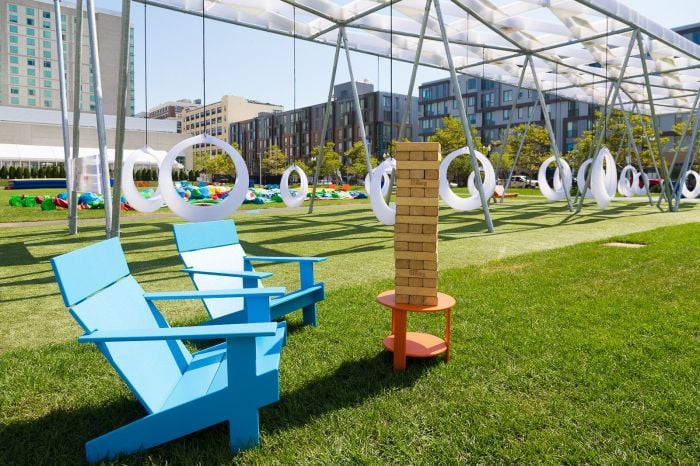 A great way to spend an afternoon is to catch the water taxi to visit Charlestown and enjoy a visit to Old Ironsides, The Anchor at Navy Yard Park, and Bunker Hill Monument. Our favorite way to do this is to walk over the bridge from the North End, and then take the water taxi back to long wharf. But you can take the water taxi both ways, as that just makes the adventure even more fun.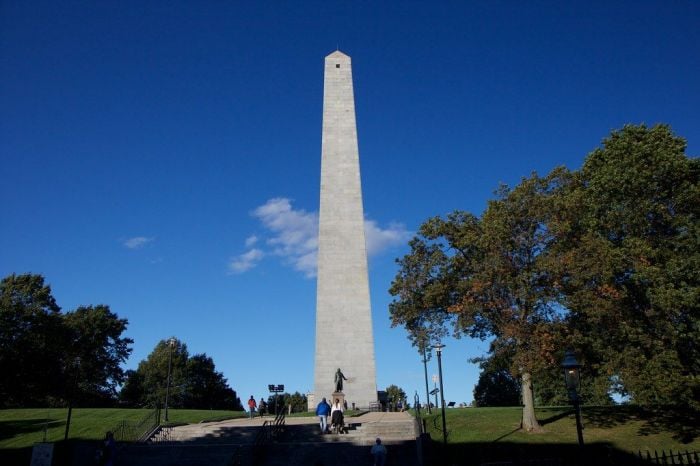 photo credit: Brandon Turner
Boston is totally a college town, and there are lots of quadrants of Boston to explore. Find out more about things you can do near Boston University, check out some things to do near Northeastern University, pop up to Medford on the red line to see what's happening near Tufts University, or head out to Chestnut Hill to see what you can do near Boston College or Waltham for things to do near Brandeis University in our handy guides.
Students can also take advantage taking one of many Daytrips from Boston. Some of our favorites include (to the north) Stage Fort Park in Gloucester, (to the south) World's End in Hingham, (to the east) Provincetown via fast ferry, and (to the west) Purgatory Chasm State Park to name just a few.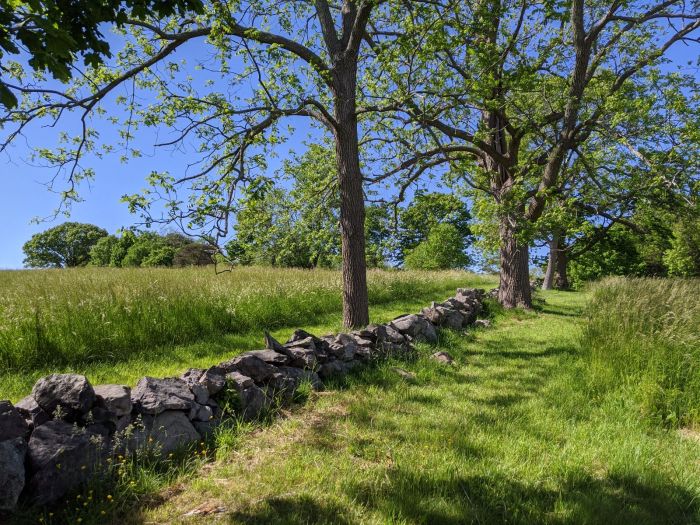 photo credit: BostonCentral (Worlds End)
During the warmer months, there are lots of great things to do outdoors in Boston, including state & urban parks, miles of waterfront, taking a trip to the Boston Harbor Islands or kayaking along the Charles River, to name just a few.
During the winter, the world is your oyster with lots of outdoor ice skating venues, plus there over 30 ski resorts near Boston within just a 1-3 hour drive.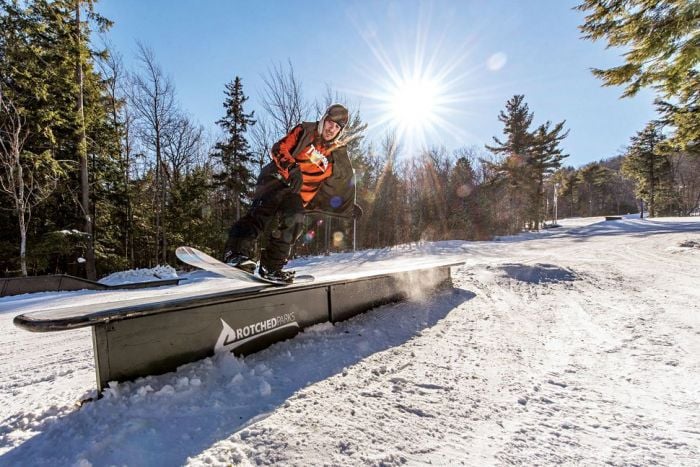 photo courtesy of Crotched Mountain
Also, the IKEA nearest to Boston area colleges is located in Stoughton, MA, about an hour south of Boston. As you can imagine, it's a popular place in late summer & early fall when college students come back to the area in droves. It's best to do your shopping early, or order it online prior to the rush.
There are many cool things to do for young adults in Boston, so whether you are celebrating the end of a work week or the end of midterm exams, weekends are brimming with promise for Boston's 20-something crowd.
For more ideas about things to do in Boston, visit our insider guides and our Boston events calendar to stay in the know.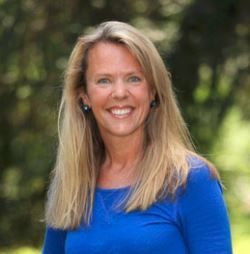 Stacey Sao has been the Managing Director of the family-friendly events and activities website, BostonCentral for almost 20 years. She continues to enjoy discovering and exploring new places to visit in the Greater Boston area.