A Visit to World's End - local guide: photos, video, info
Trustees of Reservations properties - World's End Mass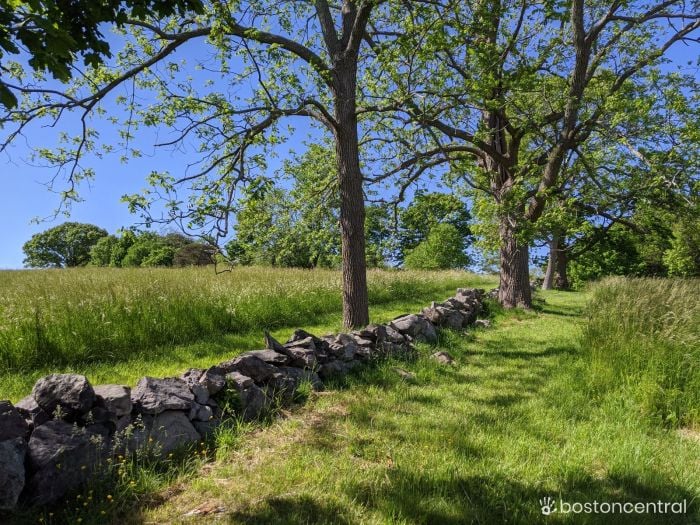 Trustees of Reservations manages over 100 stunning properties in Massachusetts, including Worlds End. Annual membership provides access to all of them and in our opinion, it is well worth it.
Our recent visit to Worlds End in Hingham resulted in a splendid day of discovery, including easy trails and wooded pathways that ultimately open up to breathtaking vistas of green fields & the ocean blue. Don't miss our video highlights at the bottom of this page.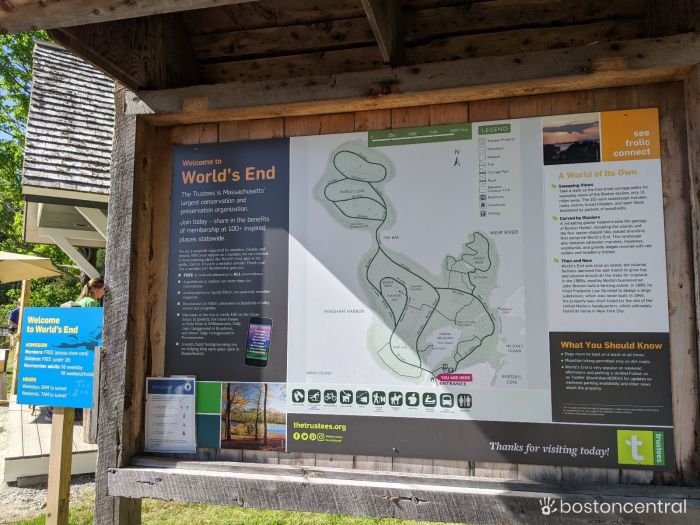 The trails are all loops and very easy to follow. There is a map at the entrance, or you can opt to take a photoe or download the map to your phone.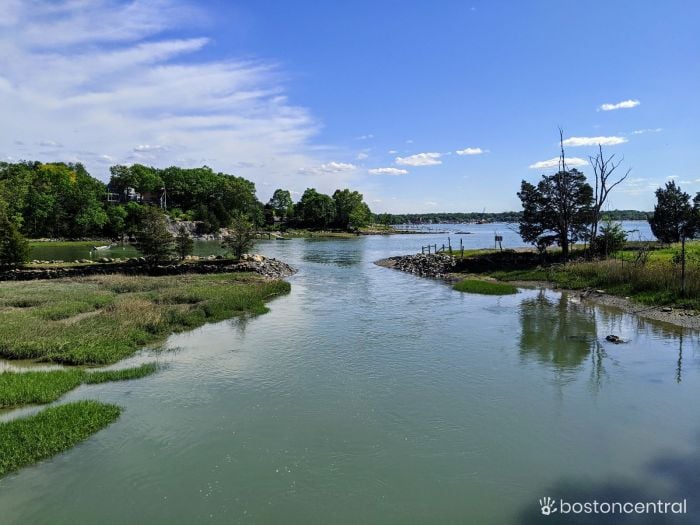 We visited on an early summer day with bright blue skies. We were greeted with such a wide variety of views and terrain. It's a lovely place to meander and enjoy the outdoors.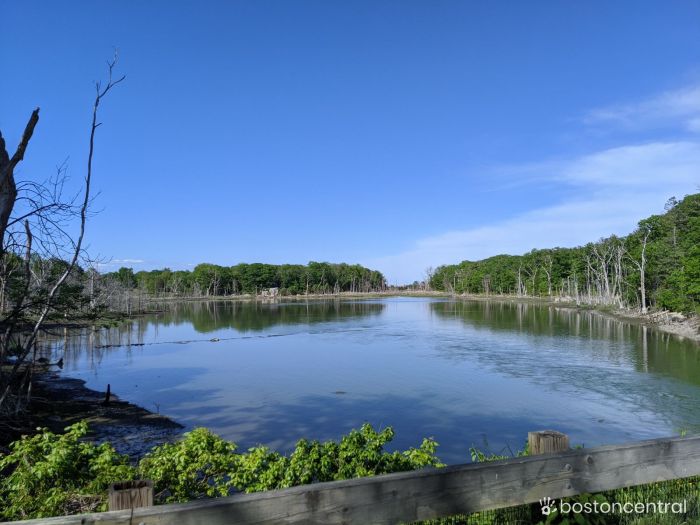 This wooden bridge crosses over this inlet with ocean views to the left and this estuary view of the Weir River to the right. The trails continue around the opposite side of where this photo was taken so you get a variety of vantage points throughout your visit.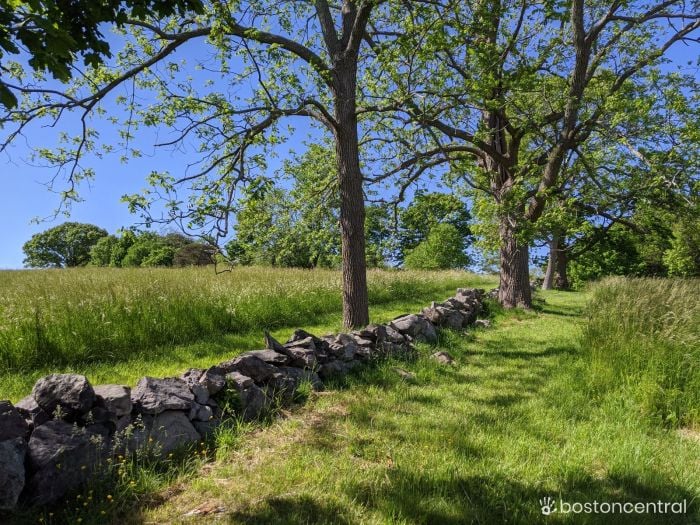 The early greens of summer against blue sky, meadows and rock wall were just stunning. Like something out of a movie. This is one of my favorite shots from the outing.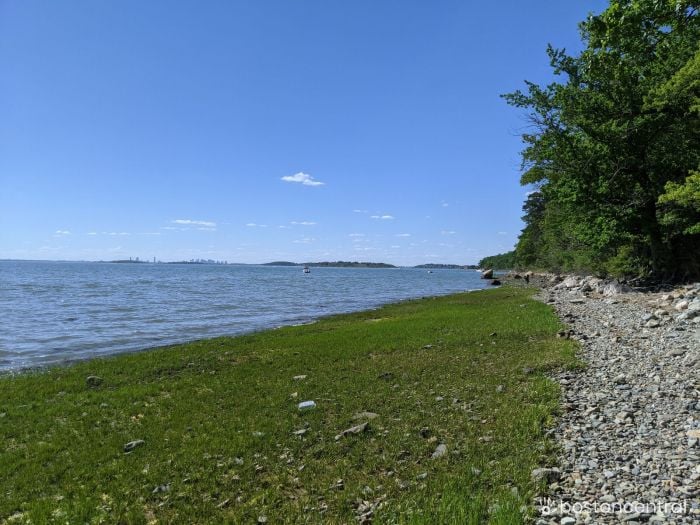 The trail that we took led down to a rocky shoreline that we were able to follow all the way around to The Bar path. Another option is to stay on the grassy trail - but we chose to walk nearer to the water. You can actually see the Boston skyline in the distance.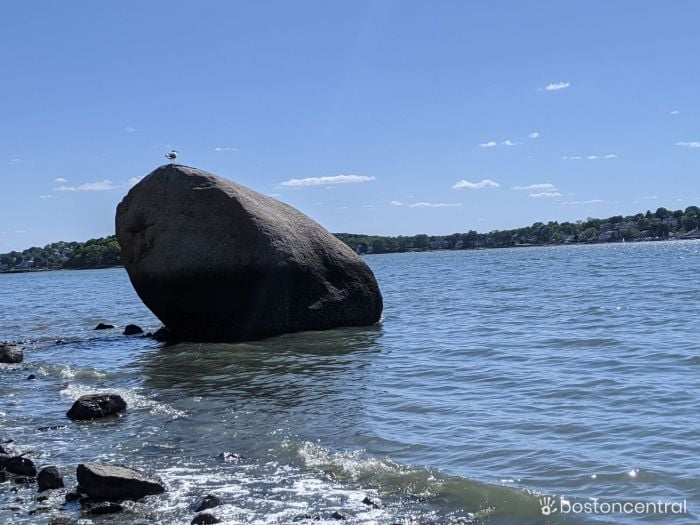 Lots of interesting things to see along the way, including giant boulders, boats and birds. Just hearing the gentle sounds of the waves lapping at the shore was so relaxing.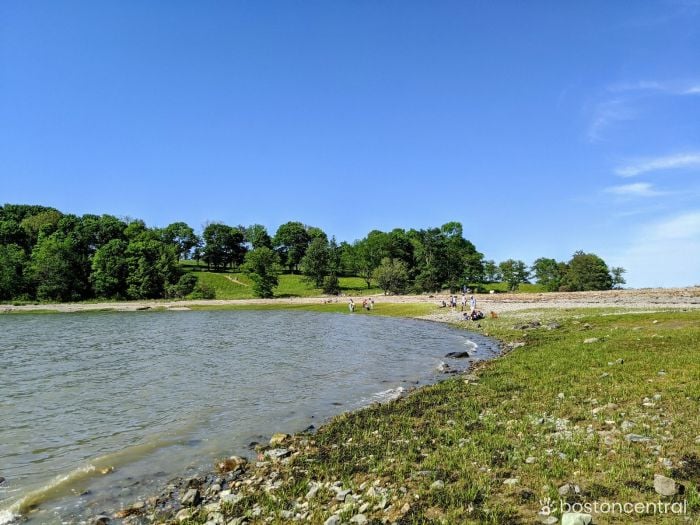 Rounding the curve, we arrived at The Bar - a thin pathway between Hingham Harbor and the Weir River. The path leads to another grassy, tree filled area of paths and views.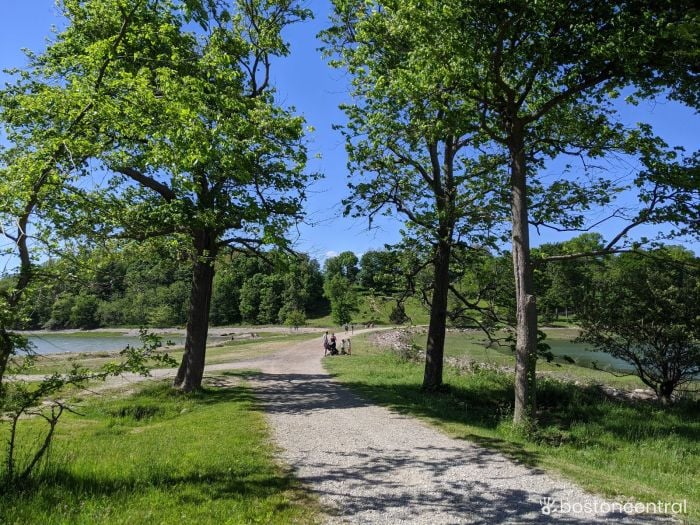 Here's a better view of the pathway between Hingham Harbor (on the left) and the Weir River (on the right). Saw a number of people kayaking and boating on both sides.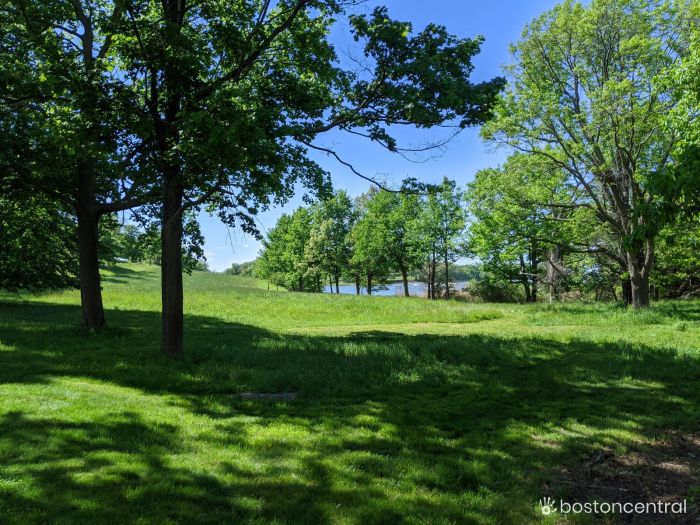 It's like taking a step back in time in many ways. So much open green space right along the ocean. I'm so glad that this land has been preserved in this was for all to enjoy.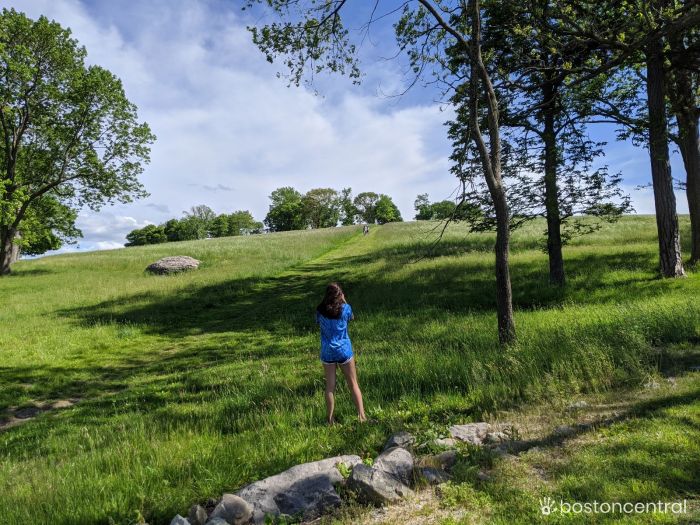 Here you can see a trail that's been cut down the center of the meadow. It gives you a sense of how much open green space there is here. The harbor is directly behind us in the photo.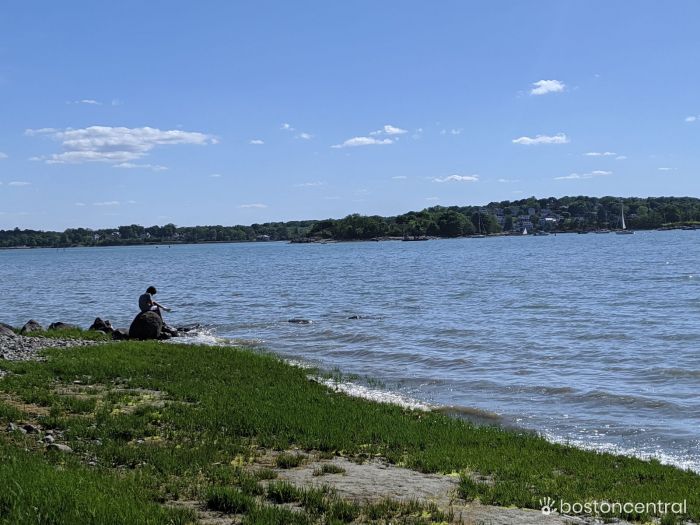 Lots of places to just sit and enjoy some solitude along the shoreline. How refreshing.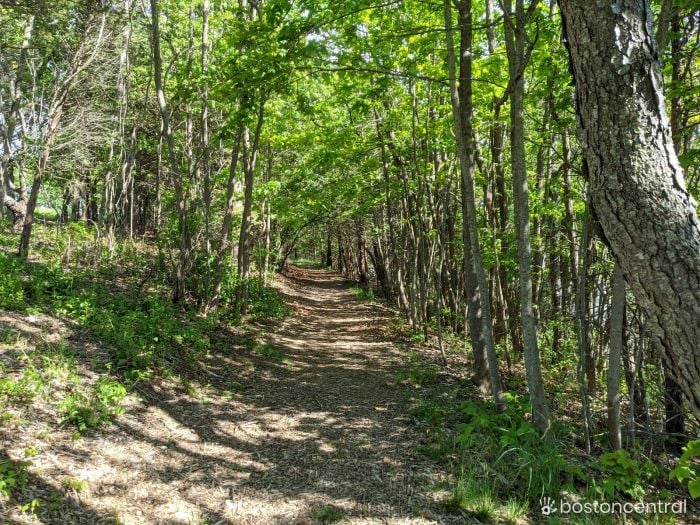 And of course, if wooded trails are your thing - they've got lots of those to walk through too.
We thoroughly enjoyed our first visit (of many to come, I'm sure) to Worlds End. In summary, the 251-acre coastscape includes rocky shores, broad hillsides, and open fields bracketed by pockets of woodlands.
The property is ideal for walking, picnicking, jogging, horseback riding, cross-country skiing, or simply enjoying nature and the outdoors. It's just a short drive to Nantasket Beach if you are looking for additional summer fun.
Daily passes are available, however a Trustees membership is a terrific options that includes free entry to over 100 splendid Trustees properties in MA.
We look forward to visiting many more Trustees Properties - stay tuned for more adventures!
Video credit: Ami Sao
Worlds End
Hingham, MA
Daily passes & membership Information
Find more ideas for great Daytrips from Boston in our handy Boston Daytrips guide. Some other fun summer adventures might include a visit to Stage Fort Park in Gloucester, a daytrip to Halibut Point State Park in Rockport, enjoy some summer fun at Spectacle Island in Boston Harbor, Castle Island in South Boston, or Tower Hill Botanical in Boylston.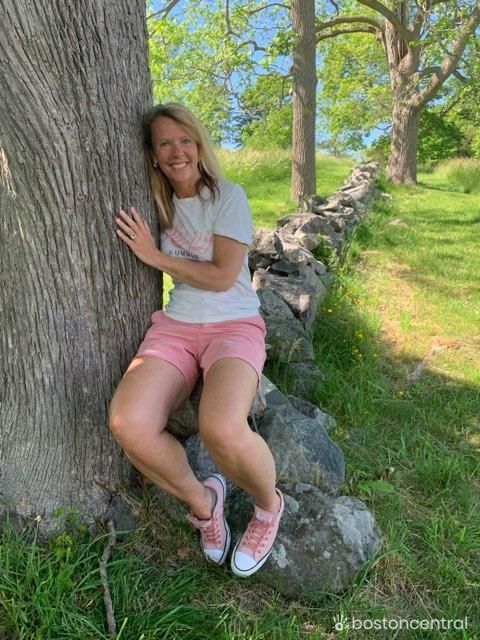 Stacey Sao has been the Managing Director of the family-friendly events and activities website, BostonCentral for over 20 years. She continues to enjoy discovering and exploring new places to visit in the Greater Boston area. World's End is one of her new favorites.
You can find many more things to do in Boston with kids in our handy guide for families looking for fun things to do all year round by visiting our calendar of Boston events and the weekly events newsletter.