Memorial Day Parades in MA
We have Not Yet Posted This Year's Information for This Event Yet
If new information for this event is already available for this year, please let us know
.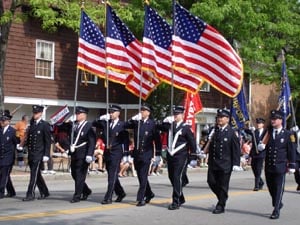 Memorial Day is a day to to honor those that gave their lives in the service to their country and to celebrate the freedoms that we all enjoy.
Below is a list of Memorial Day Parades & times (that we know of) for Memorial Day 2023. (*Don't see one of your favorites listed? Let us know! We'd be happy to include it).
Sunday
Saturday, May 27
Pepperell
Sunday, May 28
Bellingham
Dunstable
Lowell 12:00pm
Newton: 3:00pm
Somerville
12:00pm
South Hadley: 11:00am
Westford
Monday, May 29
Agawam: 10:00
Amherst: 9:30
Andover
: 10:00am
Arlington: 9:30
Ashburnham: 8:45am
Ashby: 10:00am
Belmont
: 11:00am
Attleboro: 10:00
Brockton: 11:00
Cambridge: 9:30
Carlisle
Chicopee: 10:00
Concord: 10:30 (Keyes Road)
Cohasset: 12:00pm (Veteran's Park)
Danvers
: 9:00am - (Town Hall)
Dover: 6:00pm
East Longmeadow: 10:50
Easthampton: 10:30
Erving: 1:00
Fairhaven: 8:30
Fall River: 1:00
Fitchburg: 10:00am
Gardner: 2:00pm - 3:00pm (Monument Park)
Greenfield: 10:0
Hamilton
Hampden: 10:00
Haverhill: 10:30
Holyoke: 9:00
Hopedale: 8:30am (Step-off is at 8:30 a.m. from the Hopedale Jr.-Sr. High School parking lot.)
Hudson: 10:00
Kingston 10:00 a.m.
Leicester: 10:30am at the Memorial School
Lexington: 9:00am
Ludlow: 9:00
Mansfield: 10:00am (North Common/MBTA Common)
Marblehead: 9:00am (at the American Legion headquarters on Maple Street)
Marlborough: 10:00am
Marshfield: 10:30am (Ventress Memorial Library)
Medfield: 10:00am (Janes Avenue (adjacent to the Town House) along Route 27 to Baxter Park)
Medford: 10:00am
Medway: 10:00am (at the Medway VFW, 123 Holliston St., and proceed down Holliston Street to Matondi Square in Medway Village)
Methuen: 10:00am
Millis: 9:00am (steps off at 132 Curve St. and will stop at the local cemeteries and monuments)
Milford: 10:00am (17 Medford Road)
Monson: 3:00pm (Main Street)
Montague: 10:15am
Natick: 8:40am - starts at Moran Park; with stops at historic cemetaries at 10:00am & 11:00am
Needham: 11:00am (starts at Nehoiden Street and proceed to the Town Common)
New Bedford: 11:00am
Norton: 10:00am
Northampton: 9:30
Norwood: 10:00am (Washington Street to Winter Street to Highland Cemetery)
Orange: Tully-9:00 & Downtown Orange-11:00
Palmer: 10:15
Phillipston: 9:00am
Plymouth: 9:30
Rowley: 11:00am (Pine Grove Elementary)
Salem: 10:30am
Sherborn: 10:00am (starts at Town Garage on Butler Street)
Shrewsbury
: 9:20am (starts at Town Hall Maple Avenue, proceeding to town center)
Somerset: 10:00am
Southborough: 9:00am from the Main Street Bank parking lot (corner of Route 30 and Newton Street), proceeds down Main Street, then through the cemeteries.
Spencer: 11:00am (American Legion)
Southwick: 9:30
Stoneham
: 10:00am
Sudbury:
9:30am (starts at Rugged Bear Plaza on Route 20. The parade marches east along Route 20 then north on Concord Road,)
Swansea: 1:00
Stoneham *Ceremony* (no Parade): 11:30am (Stoneham Town Hall)
Taunton: 1:15 (The parade steps off Sunday at 9:00am in front of the Church on the common)
Tewksbury: 11:00am (Main Street)
Ware: 1:00
Watertown: 12:00pm (starts at Tufts parking lot)
Warwick: 1:00
Wayland: 11:00am (starts at Wayland Middle School, 201 Main St. and will proceed along Route 27 to Route 30 to the Lakeview Cemetery in Cochituate.
West Boyleston: 8:00am (Darby's Bakery - 76 Central Street)
West Brookfield: 9:00
West Springfield: 9:00
Westfield: 10:00
Westminster: 11:00am
Westwood: 10:00am (starts at Town Hall, and will proceed down High Street to the New Cemetery).
Westport: 8:00
Wilmington: 10:00am
Wilbraham: 10:30
Winchester: 9:15am (The parade will step off at 9:15am, northbound (right) on to Skillings Road. It will take a left on Main Street, right on Church Street, left on Waterfield Road left on Mystic Valley Parkway..)
Find more ideas about
things to do in Boston on Memorial Day Weekend
in our handy guide.
---
Varies by town - please check with your local municipality for updates and weather-related info.
---
Massachusetts
---
Info changes frequently. We cannot warrant it. Verify with Memorial Day Parades in MA before making the trek. If you find an error, please report it...