Boston Whale Watching Season and Best Tours
Popular Whale Watch Tours Near Boston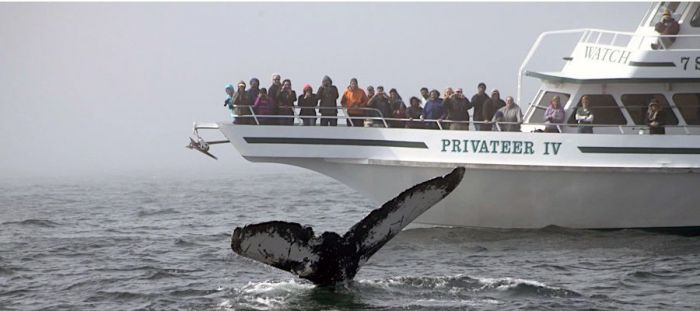 In the Boston area, May, June, July, August, September and October are generally the best months for whale watching with great sightings. Each summer the whales migrate to Massachusetts and back to warmer water when the weather gets cold.
Boston is home to a number of high quality whale watch tours that depart from various docks in the city. Here are a few local favorites:
Boston Harbor Cruise Whale Watching - Boston Harbor Cruises offers Boston's only three-hour whale watch cruise on high speed catamaran vessels. Three outside decks offer optimum viewing capability and a climate controlled interior cabin provides cushioned seating, tables and a galley for eats.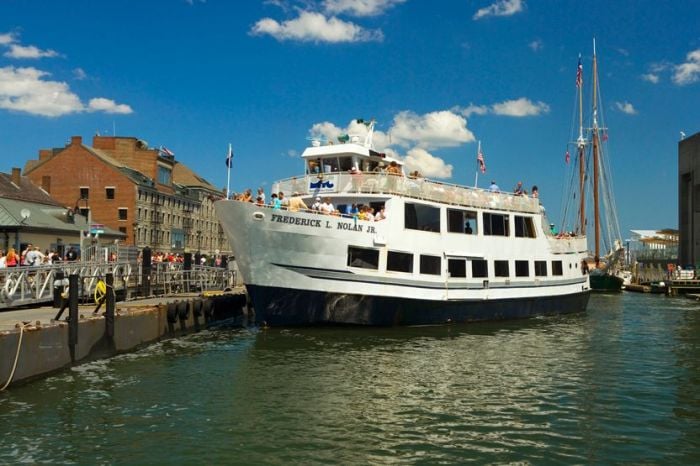 Captain Bill's Whale Watching - Operating since 1979 out of Gloucester, MA - Captain Bill's boasts whale sightings on 99.9% of their trips. Top notch crews and naturalists round out this quality humpback whale watching operation.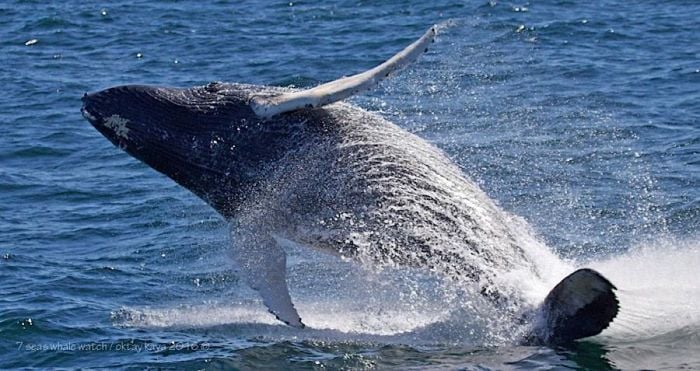 New England Aquarium Whale Watching - The New England Aquarium has partnered with Boston Harbor Cruises to give visitors front-row seats to view the ocean's most fascinating and magnificent animals. Join us! The New England Aquarium Whale Watch conveniently departs from Central Wharf.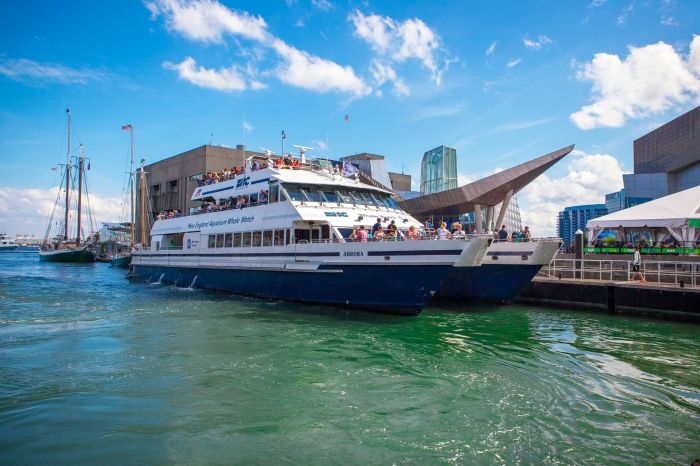 Featuring the only boats in Boston designed specifically for whale watching, with trivia, paper and crayons, snack bar, comfortable main cabin, and restrooms.
Seven Seas Whale Watch - 7 Seas Whale Watch has been leading whale watching tours from Gloucester, MA for over 30 years from mid-April through October. Located in the heart of historic downtown Gloucester, The Privateer IV is a most comfortable and elegant vessel to whale watch on. Sightings guaranteed.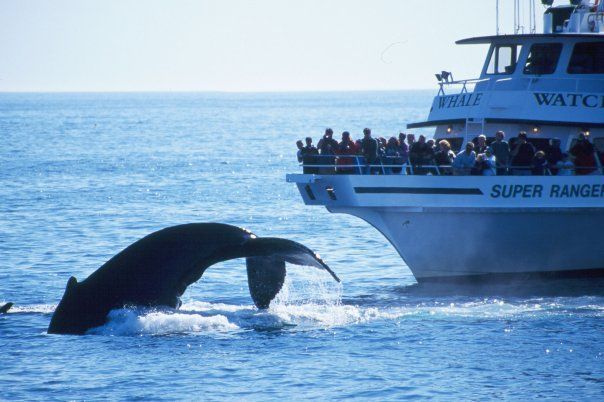 Dolphin Whale Watch - Enjoy the beauty of the Outer Cape as you depart Provincetown traveling along the National Seashore, viewing the beaches, lighthouses and the very tip of Cape Cod. Dolphin Fleet Whale Watch is ranked as one of the top activities for Cape Cod.
Captain John Boats Provincetown Whale Watch - You'll be thrilled at the sight of the great whales of North Atlantic: Humpback, Finback, Minke, Right and Pilot whales. A first class on the water experience narrated by talented naturalists who provide exciting commentary about each species you may encounter on the trip.
Food, beverage and bar service available on board. Captain John's boats ensure optimal comfort and enjoyment for all passengers. Departs daily at noon daily in July and August.
There are lots more activities to enjoy during the warmer months in Boston, including Water Parks, Beaches near Boston, and family-friendly Boston events. Plan your summer accordingly with our helpful guides helping you naviagate finding all sorts of fun things to do in Boston with your family and friends.
If you are looking for specific events and activities during the summer, our monthly summer guides (Boston June events; and Boston July events; and also Boston August events; etc..) are great resources for highlights about popular things to see & do in Boston during the summer months.
You can find lots more things to do with kids near Boston all year round in our handy guide to family fun! During the warmer months, you might like to check out some waterparks near Boston, or find a new playground for your family to explore.