Great Spots To View Fall Foliage - New England
We have Not Yet Posted This Year's Information for This Event Yet
If new information for this event is already available for this year, please let us know
.
Dates:
Sunday, September 10, 2023 - Wednesday, November 1, 2023
In/Outdoor:
Outdoor
Cost:
Free
Category:
Nature & Outdoors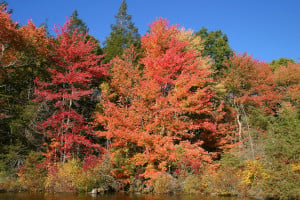 There are great spots all over the Greater Boston area and New England to take in the splendor of the Fall foliage. Here are just a few of our favorites for you to check out.
Route 20 (Massachusetts)
Route 20 stretches through Massachusetts, starting near Boston and continuing through the old Wayside Inn area, Central MA, and all the way to New York, if you follow it that far. In Western MA, the road passes near the Norman Rockwell museum. It might be less crowded than Route 2.
Mount Auburn Cemetery
A city is not necessarily the first place you would first think of for finding the best foliage, but Mount Auburn Cemetery in Cambridge has some of the most beautiful plant life in trees any time of the year. In the fall, a lot of the green turns a stunning vivid red or gold.
Walden Pond
, (Concord, MA 978-369-3254)
Waldon Pond, the venue made famous by Henry David Thoreau -- is surrounded by a serene wooded area that is used for hikes, cross-country skiing, and in the fall, beautiful foliage walks.
Maudslay State Park
- (Newburyport, MA - 508-465-7223)
Once the estate of a wealthy family, this park features well-laid out grounds and breath-taking views of the Merrimac River. As you stroll through the former estate, note the wonderful color of the trees that line the stately walkways and the care that was taken in planning a burial ground for the family pets. Maudslay State Park is open daily from 8 AM to sunset.
To reach the park from Boston, take Route 128N to Interstate 95N. Exit on Route 113W and continue about a quarter mile. Turn right onto Gypsy Lane/Hoyts Lane. Go to the end of the road and turn left. Parking will be available on your right shortly after you make this turn.
Wachusett Mountain
The mountain north of Worcester is the highest peak in Eastern Massachusetts. Wachusett in the winter it is a popular ski area, but in the summer and fall, it is a hiking spot. You either can drive, take the skyride, or hike up to the top.
When you get there you can see all the way out to the Boston skyline in one direction, the hills of New Hampshire in another, and the lakes and woods of Central and Western MA in other directions.
The Berkshires
The mountainous region in Western Massachusetts offers the best views of foliage. You can hike a section of the Appalachian Trail, climb Mount Greylock (the highest peak in Massachusetts), or just drive to the top.
Appleton Farms
Appleton Farm is located in Hamilton and Ipswich, MA. The farm has been maintained by nine generations of the Appleton family. The open pastures, grasslands and rock walls are the perfect backdrop for leaf peeping in New England.
Old Sturbridge Village
Old Sturbridge Village is located in southern Massachusetts close to the Connecticut state border. The 29th century living history museum give visitors a look at New Engladn life in the early 1800's. Covered bridges, barns and quaint country trails bring you a quintessential fall foliage spot to enjoy.
The Boston Common, Public Garden and Charles River Esplanade
Arnold Arboretum
- (Jamaica Plain - 617-524-1718)
It is hard to believe that the Arnold Arboretum is only six miles from downtown Boston. This 265-acre oasis is home to more than 14,000 varieties of trees and shrubs, guaranteeing that you will see plenty of brightly-colored fall leaves. The paths are well maintained and most trees are labeled by the diligent staff of Harvard University, which administers the arboretum. The grounds are open daily from dawn until dusk and are easily accessible via the 'T' (take the Orange Line to the Forest Hills stop) or bus (take the #39 from Copley Square to Centre Street).
Route 100 (Vermont)
Winding the length of Vermont from Readsboro to Newport, Route 100 is the major north-south route through the center of the Green Mountains, yet it's surprisingly underdeveloped. It can be crowded along the southern stretches on autumn weekends, but head further north and you'll leave the crowds behind.
I-91 (Vermont)
An Interstate? Don't scoff. If you like your foliage viewing big and fast, cruise I-91 from White River Junction to Newport. You'll be overwhelmed by the gorgeous terrain, from the Connecticut River Valley to the rolling hills of the Northeast Kingdom. The traffic isn't as bad as on the state roads, either.
Aboard the M/S Mount Washington (New Hampshire)
One of the more majestic views of the White Mountains is from Lake Winnepesaukee from the south. The vista is especially appealing in the fall from the 3 decks of the Mount Washington, an uncommonly handsome 230-foot, 1250 passenger vessel that offers a variety of tours on the lake through mid-October. Cruises leave daily from Weirs beach for 2-hour excursions. Prices range from $16-$19 for adults and $8-$9 for children 4-12. (http://www.cruienh.com) (603) 366-2628
Crawford Notch (New Hampshire)
Route 302 passes through this scenic valley, where you can see the brilliant red maples and yellow birches high on the hillsides. Majestic Mt. Washington stands in the background, and, in fall, is likely to be dusted with an early snow at its peak.
Mohawk Trail - Western MA
The Mohawk Trail is a well-known foliage drive in Massachusetts. It starts on Route 2 heading west, and goes through small Western MA towns, such as Shelburne Falls - the home of the Bridge of Flowers - and continues through the mountainous region of the Berkshires. Because it is so well known, it can also be more crowded during weekends in the peak season.
BIRD PARK, Walpole – The park's fields, wooded hillsides, and water courses explode in color. Beeches lining the allee at the Polley Lane entrance glow orange-red, while massive oaks and catalpa trees rise above the playground in clouds of yellow and orange.
WEIR HILL, North Andover – Ascend the Stevens Trail to a scenic overlook offering panoramic views across a colorful carpet of Merrimack Valley woodlands. On a clear day, you can see as far as New Hampshire's Mount Monadnock.
TURKEY HILL, Hingham and Cohasset – The hilltop's broad field offers vistas of South Shore woodlands and Massachusetts Bay. Enjoy the field's fading goldenrod, the reds and oranges of maple and oak in the middle distance, and beyond, the blue ocean.
ROCK HOUSE RESERVATION, West Brookfield – Carter Pond becomes a kaleidoscope when the trees lining its shores reflect their seasonal colors in its surface. Located only a short walk from the parking lot, this is an ideal family destination.
BRYANT HOMESTEAD, Cummington – The iconic estate boasts 150-foot evergreens, yellow-leaved birches, and a glen of old-growth trees. But the Homestead's hallmark is its entrance allee of sugar maples blazing a brilliant red in the fall.
NOTCHVIEW, Windsor – The 3,000-acre reservation supports a substantial evergreen forest of spruce and fir. But Notchview also nurtures plenty of sugar maples, which in autumn turn the property's Circuit and Minor trails into tunnels of orange and gold.
BARTHOLOMEW'S COBBLE, Sheffield – Boasting more forest types than anywhere else in Berkshire County, "Bart's" foliage show is memorable. Climb the Tulip Tree trail to the top of Hurlburt's Hill, settle onto a bench, and take in the Housatonic Valley vistas.
FIELD FARM, Williamstown – Amble along trails through broad fields, and enjoy memorable vistas of the Berkshires. Just across the valley, the state's highest peak, Mount Greylock rises 3,491 feet. For a more intimate experience, visit the spring-fed pond where the surface reflects the changing hues of the surrounding landscape.
NOANET WOODLANDS, Dover – From the summit of modest Noanet Peak, enjoy an unexpected view of the Boston skyline – and of healthy suburban woodlands in full foliage color. You can also walk 17miles of leaf-covered cart paths and trails on loop routes that return you to your starting point in one hour or four, depending on your plans.
JACOBS HILL, Royalston – This quiet north-central Massachusetts reservation near the borders with New Hampshire and Vermont features Jacobs Hill, which offers singular views west to the Berkshire Hills. Follow two miles of trails past maples turning purple-red and yellow-leaved birch trees.
GREENWOOD FARM, Ipswich – From the long driveway, you'll take in a coastal view of salt marsh, upland fields, and tree groves bright with color. Make your way to the Paine House and look for several large oak trees on the left, their leaves destined to create a crackly brown carpet on the grass – perfect for kicking through.
NORRIS RESERVATION, Norwell – Along the wide path leading from the parking lot, enjoy the green/gold contrast of evergreen and beech. At the mill pond, catch the reflection of water-side trees in the pond's surface. Then watch for scarlet swamp maples in the wetlands, also home to winterberry, now sporting bright red berries.
There are many ways to experience the beauty of fall foliage. Check out our guide to
fall foliage adventures in New England
for some great ideas on how to explore the best of fall with kids.
---
Virtual/Online
---
---

Breakheart Reservation - Wakefield Saugus Lynn
So close to the city yet so far. Breakheart has a bit of solitude for everyone. Its a bit more active than Lynn woods, but there's a variety of trails here to do a variety of loop hikes through unbelievable fall foliage. There's also a leashless dog area, called Bark Place you can walk your dog to. There's a swimming beach at Pierce Lake as well. Some favorite trails include Fox Run Trail (Marked Red), Saugus River Trail (marked Yellow), Ridge Trail (Blazed Orange), Upper Silver Lake Trail (marked blue), Pierce Lake Trail (Blue), Fern Trail (marked Yellow), Eagle Rock Trail and Eagle Rock lookout (great sunsets) (Red), and Ash Path, with a spur on the ridge trail to Ash Hill for a view of Boston. Breakheart Hill is easily accessed from the Lynn side parking area at the ranger station visitor center. Breakheart has a couple paved loop trails as well for rollerblading or biking. Other trails are narrower and unpaved.
---

Lynn Woods You Never Come Out The Same Way You Go In
Make sure to print a map out before you go on a hike here. The trails are well marked, but use a lettered and numbered grid system for trail intersections so its best to have a map with you. You can print one out online. I have explored this park about 3 times now, and each time only saw about 3-4 people the entire 4 hours I was hiking. Its amazing in a city as bustling as Lynn so close to the Urban Center of Boston, you feel like you're in the middle of nowhere, almost eerily alone at times. There's some great views of the ocean at Mt Moriah, and the Steel Tower as well as the city of Boston skyline. You can see planes coming in for a landing at logan as well. The stone tower is pretty neat as well and you can climb up the tower during the day , the ranger usually closes it at 3:30pm. but its at his discretion. There's some nice sunset water views over the lakes, and a variety of different views along the trails from meadows to woodlands, to pine forest, to birch forest, to hills and rocky portions, to scattered boulders through the woods leftover from glaciers long ago. You might even see a deer or two. Dungeon rock is quite interesting as well. OX Pasture road is a good walk, as is Dungeon Road, or Pennybrook road. Boulder trail and Cooke's Road are also good walks. There are a number of Loop walks you can do here to mix things up a bit. great for walking your dog, but please keep dogs on leashes and pick up after your pet. :-) Great walks for the family as well. Great picnic spot on Mt Moriah or at the Steel Tower. Great place to see the foliage close to the city
---

Great Brook Farm
Try Great Brook Farm State Park In Carlisle its only $2 all day till 8pm There's a homemade ice cream stand as well and lots of ranger led programs. A vast network of trails, well marked, (though take a map with you) goes around a working farm. You feel like your way out in the country yet you're only 20-30 min from Boston. Check out Ferns country store down the road for lunch , drinks for hiking etc. snacks, etc. Fall Foliage is amazing here at Great Brook when peak color.
---
Info changes frequently. We cannot warrant it. Verify with Great Spots To View Fall Foliage - New England before making the trek. If you find an error, please report it...