Museum of Science, Boston
Other Ideas:
Louisa May Alcott's Orchard House - Home of the Alcotts
;
Old Sturbridge Village
;
Paul Revere House
;
Old South Meeting House
;
Discovery Museum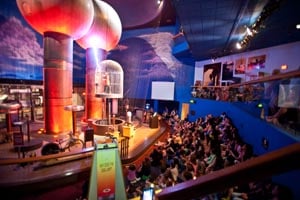 One of the world's largest science centers and New England's most highly attended cultural institution, the Museum of Science is ideally positioned to lead the nationwide effort to promote engineering education awareness, bringing science, technology, and mathematics alive through its exhibits, programs, and more.
Museum of Science Highlights
:
Explore a variety of interactive learning experiences that span the Museum's permanent and temporary exhibits, including the Hall of Human Life, Wicked Smart: Invented in the Hub, the Live Animal Care Center, New England Habitats, and more.
Children's Discovery Center
:
Designed for children from infancy to age eight and their accompanying grownups, the Discovery Center is an ideal area for early learners. Teaching staff emphasize the use of real objects and age-appropriate tools, with an extensive natural history teaching collection and an assortment of fun, hands-on science, math, and engineering activities for little ones.
Theater of Electricity
Indoor bolts produced by the world's largest air-insulated Van de Graaff generator spark exciting explorations of lightning, conductors, insulators, electricity, magnetism, and storm safety. Shows are available at 11:00 am, 12:00 pm, and 2:00 pm.
Charles Hayden Planetarium
:
The Charles Hayden Planetarium is the most technologically advanced digital theater in New England. Explore our universe and beyond with one of many space science Planetarium shows, like Undiscovered Worlds: The Search Beyond Our Sun and Explore: The Universe. On Friday and Saturday evenings, experience an innovative and immersive music offerings as part of Music Under the Dome. Please
click here
for showtimes.
Science Live! Stage
Science really comes to life with the rotating schedule of live scientific discovery on the state-of-the-art Science Live! Stage. Presentations may investigate super-cold science, live animals and ecology, archaeology, or other exciting topics certain to make you look at the world in a new way.
Mugar Omni Theater
In the Mugar Omni Theater, the world's largest film format is projected onto a five-story-tall IMAX® Dome screen. It wraps audiences in larger-than-life images of flora, fauna, and faraway places. A state-of-the-art digital sound system completes the immersion effect.
Astronomy After Hours
On Friday nights from April to October, the Astronomy After Hours team hosts a variety of hands-on astronomy and space science activities. When weather allows we'll have small telescopes available for a hands-on experience, and visitors will have the opportunity to view the evening's featured astronomical object through the telescope in the Museum's Gilliland Observatory.
Museum of Science is a Duck Boat departure site
. . . Boston Duck Tour tickets can be purchased in advance on
their website
or (617) 267-DUCK (March 29 – November 28).
Museum Parking
:
Parking is available at the Boston Science Museum for 1,000 cars. Hourly rates apply. The garage fills up on busy days, and may close temporarily until spaces become available. Come early (before 11:00 a.m.) or late (after 4:00 p.m.) If you come late, be sure to order your tickets in advance.
Public Transportation
Take public transportation if you can: Green Line to Science Park.
Museum Membership includes 2 Hours of Free Parking
A
membership to the Museum of Science
offers a variety of cool perks, including 2 free hours of parking in the parking garage. In addition, depending on the membership level, you can get free passes to see movies, planetarium shows and also guest passes.
We love the idea of a museum membership because it's such a cost-effective way to get unlimited access to the museum year round, and it's a great place to entertain kids all year round. Beat the heat on super hot summer days, escape the cold dark days of winter, and stay dry rainy days.
Find lots more
things to do in Boston with kids
in our handy guide for parents and families.
For more ideas on places to visit in Boston, our
Things to do in Boston
guide is a great place to start! We've compiled some of our favorite spots for you right here.
In addition, there are many interesting museums to visit in Boston - peruse our
Boston Museums
guide to find out which one you should visit next.
---
Saturday – Thursday: 9:00 am – 5:00 pm,
Friday: 9:00 am – 9:00 pm
View Complete Schedule
---
Exhibit Halls: Adult (12+) $29, Senior (60+) $25, Child (3-11) $24 – save $3 on each ticket by purchasing at least one day in advance
Mugar Omni Theater: Adult (12+) $10, Senior (60+) $9, Child (3-11) $8
Charles Hayden Planetarium: Adult (12+) $10, Senior (60+) $9, Child (3-11) $8

View All Admission Options
---
---
1 Science Park, Boston, MA, 02117
map
Phone: 617-723-2500
Parking is available at the Boston Science Museum for 1,000 cars. Hourly rates apply. The garage fills up on busy days, and may close temporarily until spaces become available. Come early (before 11:00 a.m.) or late (after 4:00 p.m.) If you come late, be sure to order your tickets in advance. Take public transportation if you can: Green Line to Science Park.
---
Ordering tickets online will save you the wait in line when you arrive. Simply go to the yellow 'reservations' line and breeze through the crowds waiting to purchase tickets.


The annual Museum of Science membership is well worth it if you plan to visit the museum more than once. It offers 2 hours of free parking for each visit, guest passes, and passes to the planetarium and the Omni theatre. You also can visit select science museums nationwide at no additional cost.


The food court at the Museum of Science offers some pretty good faire (Wolfgang Puck's pizza is worth a visit).


The Theatre of Electricity offers two shows, Lightening, and Battle of the Currents. The Lightening show gets you remarkably close to this striking phenomenon, but loud bangs might frighten the under 5 set. The alternative show Battle of the Currents is less loud, but may bore some kids as it's more of a discussion than a show.
---

Highly recommended by my children
This past weekend, my nephew from Los Angeles, CA came for a short visit. If only we had time, I would had took my children and their cousin to the Museum of Science. One said, 'Oh we've been there a lot of times but they always have lot of interesting exhibit and different event each time we go. (Got interrupted) And and and...I love their huge gift shop, said the little one.
---

Always fun and educational
We love this museum! Our favorites are the Live Animal shows, the hatching chicks, tamarin monkeys, the IMAX movies, the shuttle simulator, and the electricity show. We also love the Butterfly Garden and the musical staircase. Parking is really cheap just a few blocks away at the mall. Also easy to get to by train. We have an annual pass and we always love our visits.
---

Quick Tip To Save
Right now the museum has a great new exhibit Frogs: A Chorus of Colors, with dozens of really unique species from all over the world. My wife and I took our nieces and nephew last week and they loved it, and so did we! (As they say in their commercial, 'It's ribbeting!') We saved $2 off each child's admission through an online frog trivia game the museum has created. You can find it at www.FrogsCaravanOfColors.org. While you're there you can also sign up to win tickets and some other things. Definitely worth checking out the exhibit and the coupon!
---

Boston Museum Of Science
The Boston Museum of Science is a great place to explore, learn at the same time while you're having fun! If you're kids love to play but hate school and don't like learning, this is going to be a great opportunity. you and your kids will explore all the different exibits and show but you'll still learn alot. You'll be amazed how well The Boston Museum of Science portrays things in the real world. Everyone will enjoy having fun here while learning having the best trip ever! This will be a trip that you will remember for the rest of your life. I know when I went there for the first time, I loved the place and all the fun little things that set up for everyone to lear. I was surprised how they set up the things so kids can have fun while learning. It's not just a field trip to play but also a filed trip to learn! It's not only fun for kids, grownups! You'll laugh and your insides will soar when you see your family enjoying this wonderful trip! EVeryone will thank you and they'll be so glad that you took them there! It'll really be a great experience and learning memory. I'd love to think that my family had such a fun time while learning! It's amazing how much fun you'll have while gathering information!So buy some tickets, drive down to Boston and explore a world and fun and knowledge today! Keri H. Middletown R.I. 02842 10 years old
---

Never boring
There is always something neat to discover here. Over by the planetarium they have a really cool planet center that has models of all the planets to scale with each other and the sun. Daunting to see just how tiny the earth is next to Jupitor and the sun! We also enjoy the light models of the solar system, the galaxy and the universe as we know it. We haven't been to a planetarium show yet - perhaps this will be the year.
---

Favorite Museum
The Museum of Science is our family's favorite. Our kids really enjoy visiting the Human Body Connection room. There is lots to discover there - my daughter especially likes watching the chick hatching station. In addition, there are all sorts of models of human body parts, so kids can learn about the circulatory system, the ear, the teeth and decay (great for a lesson in tooth brushing!) and of course skeletons. In addition, there is a cool glassed in room with four tiny monkeys to watch - always fun. We got a museum membership this year and plan to use it as much as possible. It's also fairly easy to get to from the burbs, both by car and by MBTA.
---

Discovery Center is wonderful
Both of my children have a ball at the Children's Discovery center. There is so much to do in there. From the discovery boxes (big boxes of nifty things to explore like magnets or bones) and the experiment station to the waterfall play area and the animal dress up centers - you just can't lose. You can stay there for hours. What a wonderful place.
---

Robot Exhibit
I went to the Robot Exhibit today w/my 4 yr son who just loves robots. We were both very disappointed! Not what we thought it would be. Only 1 robot to play with. Everything else was something you had to read about.
---
Fun times at the Museum Of Science, Grade 3 Student
Today I went to the Museum of Science with my mother and sister. I loved learning about the different things that have to do with science. The new exhibit was very interesting we learned a lot about different things that happen in our bodies. I loved the lightening show, it can be very loud, but if I covered my ears, it's okay, but it's so cool. My favorite part of the museum is the science in the park exhibit, there's so many fun things to do there like race against a light, testing your strength, and spinning the tires. I'm looking forward to the next visit and learning more especially with the next exhibit. I wonder what the next exhibit is going to be.
---
Museum of Science was awesome, Grade 1 Student
I liked the playground a lot. My favorite part was the spinning and the running thing. I also liked the lightening show. I also liked the animal show.
---
Boston Museum of Science, Grade 3 Student
The museum of science has lots of cool stuff. I saw the dead sea scrolls. I saw a short movie about sea creatures. We made trampolines out of elastics and wood and tested them out. The museum of science is a fun place to go.
---
My day at the Museum of Science, Grade 3 Student
We walked up and saw a giant model of a Dinosaur and a Duck boat. When we went inside we went to the special exhibit, Pixar. I thought it was awesome to see how pixar works and I even got to make my own mutant toy. After that we went to the lightning show, it was so cool because the guy never got hit with lightning and the lightning played music from Star Wars. After the lightning show we went to the computer room and I built a bunch of circuits and learned how they worked, it was so awesome. Next we went to the science in the park exhibit, it was so much fun I loved trying to beat the light in a race. I also had fun spinning myself crazy there til I was dizzy. We built fish in the fish room and created shadows in the light room. I had so much fun and I can't wait to go back again.
---
Museum of Science, Grade 2 Student
During my trip to the Museum of Science I got to see many great things! The first exhibit I went to see was the Pixar room. This room was neat because the stations were all from different Pixar movies that I have seen. One of my favorite parts of the museum was the dinosaur area. I got to see Cliff the dinosaur and look at how big their bones were. I also got to do an activity to help the people out with a research study. I had to look on a computer at different 2D and 3D images to decide which one was better. I liked looking at the 3D images better because the pictures are more clear! I think that kids should go visit the Museum of Science to learn about all different things!
---
Info changes frequently. We cannot warrant it. Verify with Museum of Science, Boston before making the trek. If you find an error, please report it...