Boston Kid-friendly restaurants
Restaurants near Boston that both parents and kids will enjoy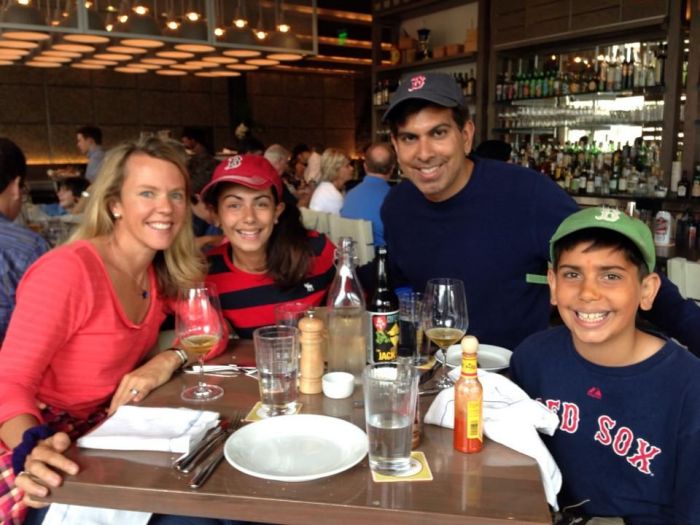 Some cool, Boston-Area Restaurants with great options for both Parents and Kids
Boston is full of wonderful restaurants, but some are more kid-friendly than others for a variety of reasons. Fortunately, we've found that, there are quite a few places that cater well to to both parents and kids! Our staff has taken the time to put together a list of great foodie venues that parents can enjoy just as much as their kids. And that is a good thing.
1. Flatbread Pizza/Sacco's Bowl Haven — Somerville
Flatbread is a cool combination of a wood-fired pizza joint and a bowling alley. The handcrafted pies and salads are made with lots of local, organic ingredients in a wood-fired oven that kids love watching (an activity in and of itself), from the safety of a nearby bench.
Flexibilty is king here, as you can grab a bowling lane either before, during or after your meal, where your family can enjoy a fun round of candlepin bowling. Afterward, you can walk around Davis Square for a bit of people watching, or there is a movie theatre right around the corner to catch a flick if you want to make a day of it.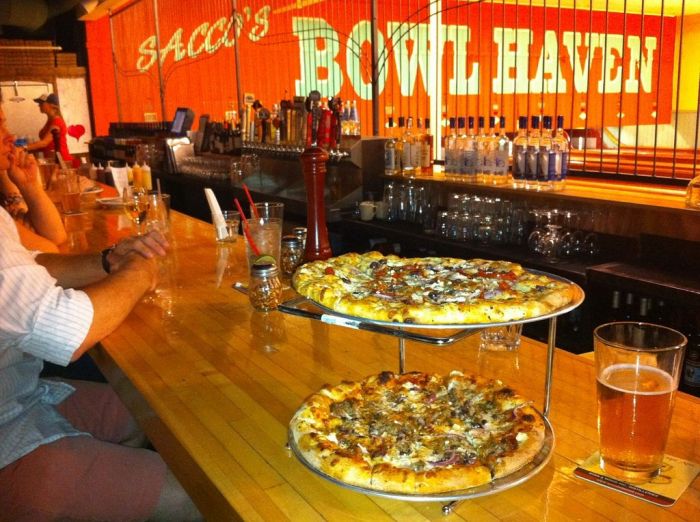 Photo Courtesy of Flatbread Pizza
2. Full Moon—Cambridge
Full Moon might be the most kid-friendly restaurant in Boston, or anywhere, for that matter. It's stood the test of time, haveing opened more than 20 years ago with the express purpose of providing a place for parents to dine on good food (and relax) while their children have fun in a dedicated play area.
Parents can eat in peace while the kids enjoy themselves with the toys at the kids' playground within sight of the tables.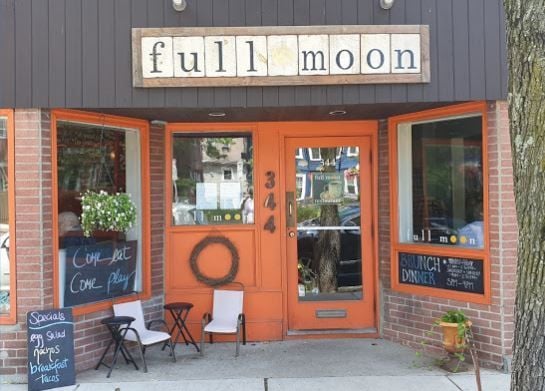 Photo Credit: Ravi Govindan
Full Moon is open 7 days a week for brunch between 9 am and 2:30 pm then for supper between 5 pm and 9 pm. The brunch menu for adults includes poached eggs, salmon, and other bistro type favorites while the kids can have a cheese quesadilla, chicken fingers, scrambled egg with home fries and bacon or pancakes from the kids' menu.


3. China Pearl & Hei La Moon, Dim Sum - Boston
Dim Sum can be a fun, family friendly adventure found mostly in Chinatown. There are quite a few restaurants that serve it, however our two big favs are China Pearl and Hei La Moon. Families with children can be found throughout the multiple large dining rooms enjoying kid-friendly dim sum. Meals come with a pot of tea, and water can be requested.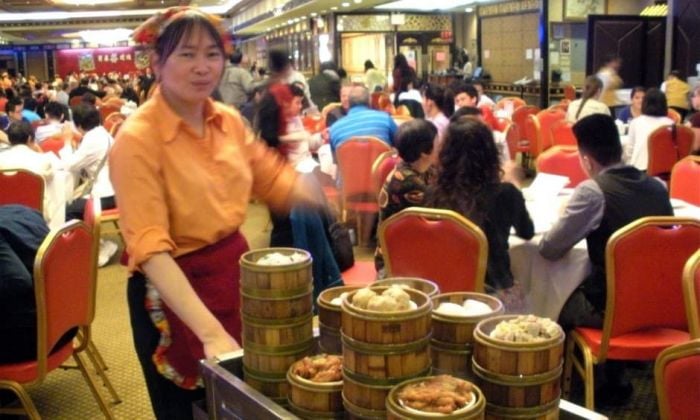 Photo Credit: Hilton Mom Voyage
Some of our favorite cart dishes include Har Gao (shrimp dumplings), beef balls, pork bun, yellow bean bun, shrimp stuffed eggplant, chicken rice soup, and a tasty tofu & ginger syrup dish (dofu hua) for dessert. Wait staff will always gladly fetch high chairs, forks or spoons for little ones, and you can order noodle dishes and other things from a set menu.
4. The Wellington - Belmont
Recently opened in Belmont, the Wellington is easy to reach from Boston's suburbs and has a designated menu for kids, and there are booster seats and high chairs available to make seating easier for small kids. Food options range from cheeseburgers and chicken to mac and cheese, a raw vegetable plate, and grilled cheese, and all dishes come with fries, tater tots, or salad. The large menu for adults features burgers, seafood and meat entrees, and raw bar items like oysters and crudo.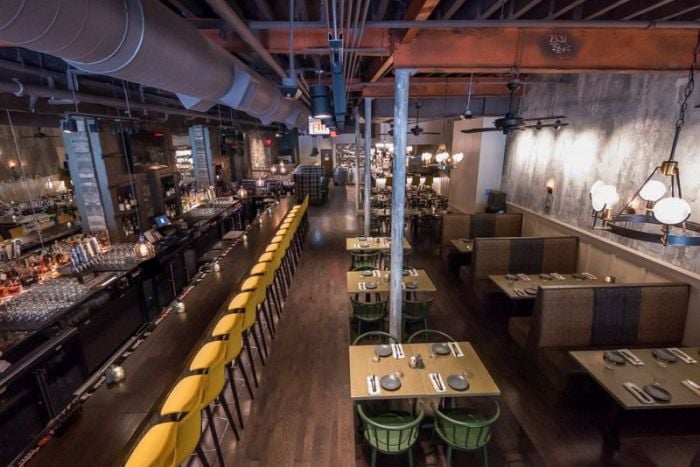 Photo courtesy of The Wellington


5. Shake Shack—Chestnut Hill
Who doesn't love a delicious burger with fries? The burgers, fries, and shakes are all top notch—the kind of delightfully decadent but quick meal parents and kids both love. Shake Shack Chestnut Hill is extra kid-friendly, with an outdoor lawn for little ones to frolic and play, complete with kid-sized benches.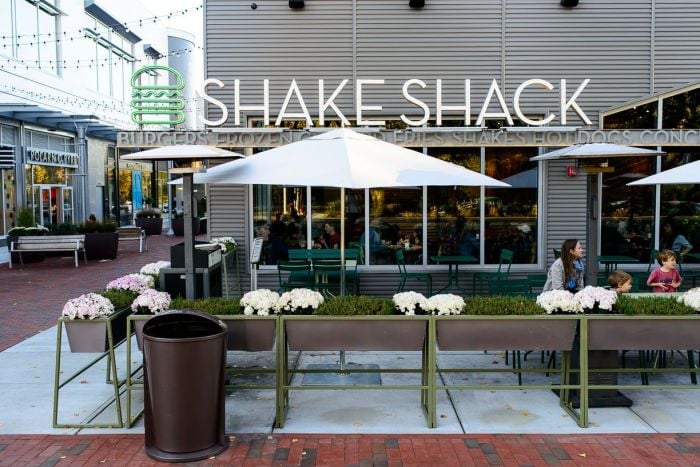 Seasonally, there is also an outdoor foosball table and cornhole to occupy the troops. It's all right next to the outdoor seating (with umbrellas for shade), so parents can enjoy their meal while they keep an eye on play. (There is a plarking lot just outside, so younger children should still be supervised.). Other Boston locations include The Seaport, Newbury Street and Cambridge.


6. Summer Shack—Cambridge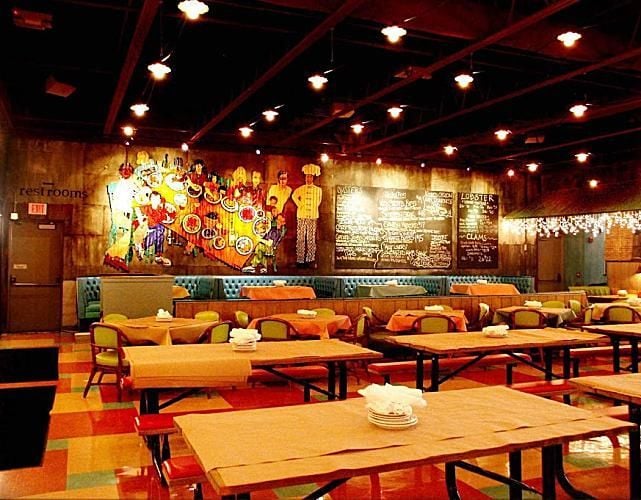 Photo courtesy of Summer Shack, Cambridge
Speaking of shacks, the name says it all at Summer Shack, it kind of feels like a New England summer day in here, even in when it's the cold and outside. It's got a fun clambake style decor that's both casual and welcoming. It features food the whole family will love—classic and unique seafood dishes and lobster for parents along with simple, well-loved meals for kids. Tables are all covered in brown paper which makes the meal more of an event. Sunday nights are especially fun for kids, with balloon animals, and a sundae bar. Win.
7. Avana Sushi II - Boston
Avana Sushi offers authentic and delicious tasting Sushi in Boston,. Avana Sushi's conveniently located on Franklin St near Downtown Crossing, and its affordable prices make this restaurant a natural choice for both dine-in and take-out meals for families with kids in Boston. The venue provides a calming, friendly environment and offers full sushi menu including an array of Chef's Special Maki.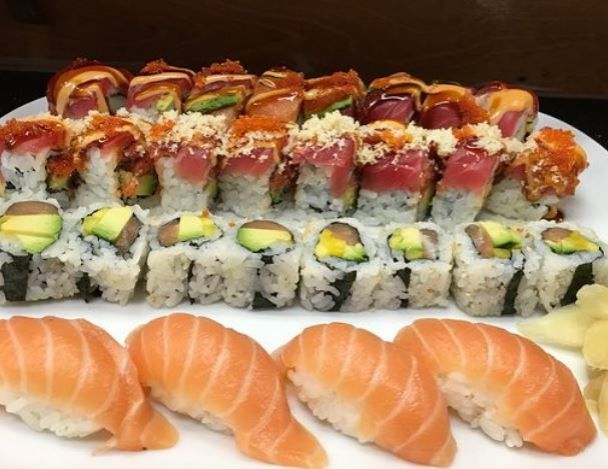 8. Papagayo - Boston
Famous for their Mexican food, and happy hour, there is a vast range from enchiladas, burritos, and tacos, to their house special like roasted salmon fillet and more that will please the palatte of most kids. The atmosphere is warm, colorful and inviting with the wood and exposed brick complemented by the vibrant Mexican art on the walls. Favorites like Quesadillas, Tacos & Burritos are surefire hits, along with chips & fresh salsa and guacamole. Ole!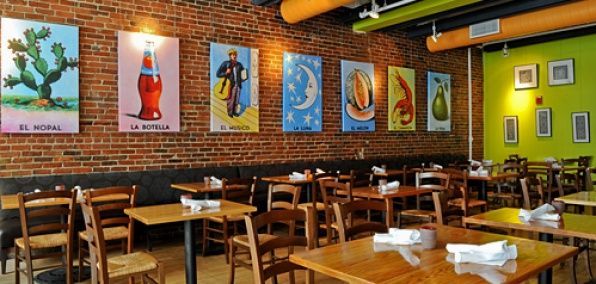 Photo credit: Urban Dad
9. The Smoke Shop - Boston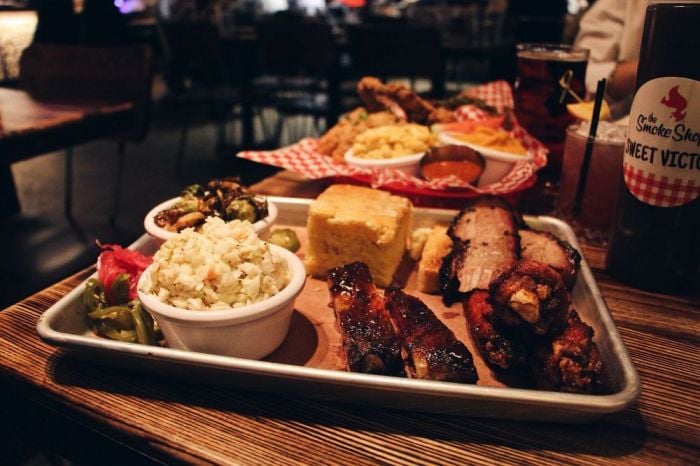 If you are looking for some good BBQ in Boston, look no further! Located in Boston's Seaport district on Congress Street, The Smoke Shop offers up some tasty meats. The beef brisket is so tender and falls apart so easily and the pork belly ends are to die for. Other favorites include the pork and beef burnt ends, and the pulled pork. All amazing! And if you've somehow saved room for dessert, the banana pudding is our choice.
10. Sweet Cheeks - Boston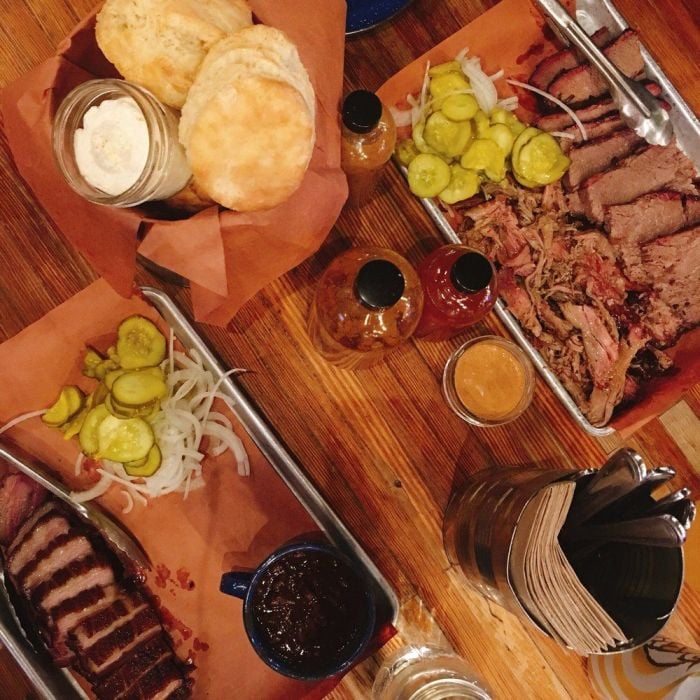 If you happen to be over in the Fenway area, Sweet Cheeks is a must visit for BBQ. Popular dishes include the pulled pork tray with the broccoli cheese casserole, coleslaw and a biscuit which comes with an incredible honey butter. Their BBQ sauce is excellent - sweet, not spicy.
We also definitely recommend the bbq brisket - it is the only meat that comes with sauce. The mac and cheese is served in a mug and has crispy bread crumbs on top. If you're more than one person, you can totally split a 'cheeks trays' as it's a lot of food.
11. Life Alive—Cambridge
When you feel like having a healthy meal that also tastes great, head to Life Alive in Cambridge. There's a lot packed into this two-story location, including a special kids' area in the basement. Small tables and chairs, plus toys, means that little ones will be entertained while you enjoy a rice bowl and green juice. A cheery atmosphere gets even more fun on Sundays, with DIY sundaes and balloon animals.
12. Fire and Ice - Boston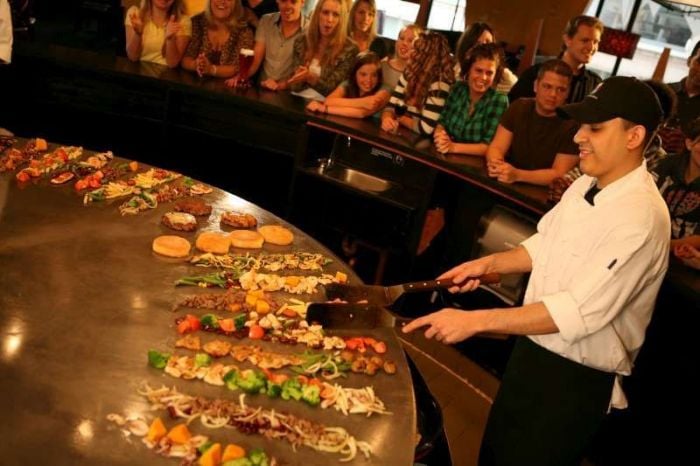 Kids can get involved in deciding what goes into their food because here at the lively buffet style eatery you get to pick your own ingredients and sauces that you would like the chefs to concoct into a delicious stir-fry. Kids are more likely to eat what they choose, with the added enjoyment of watching the chefs in action at the round grill where they put on a bit of a show with their knife skills, juggling and high-speed preparation skills.
13. Max Brenner—Back Bay (CLOSED)
This is one restaurant where we feel confident your kids will sit and eat their meals. The menu includes universal favorites like mac and cheese, chicken fingers, pasta, mini cheeseburgers, pizza, and sweet options like crepes and waffles.
For dessert, try out the chocolate pizza topped with marshmallows and a milkshake. Or if you're feeling really crazy, order the Max's Palace Famous Chocolate Mess Party that is large enough to share. It's one tasty mess.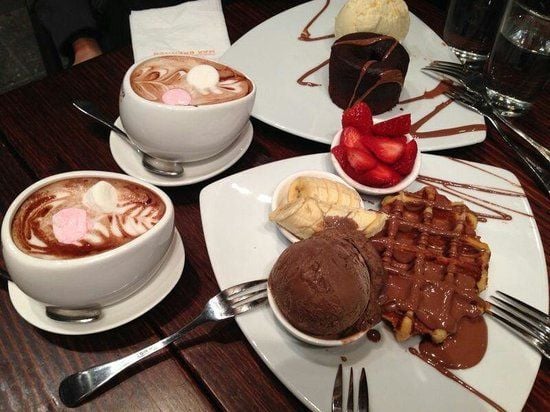 There are adult beverages on hand as well as delicious hot chocolate that is a welcome treat any time of the year. The two level restaurant has booths and large tables to accommodate families and groups of all sizes. Plus there are lots of cool displays of chocolate treats throughout the restaurant.
14. Rosa Mexicano - Boston Seaport
While the restaurant itself may not be kid themed the location will certainly appeal to kids as they can watch what is happening along the harbor front. The guacamole and churros here are what keeps many patrons coming back. The restaurant welcomes kids and they are sure to find something on the young amigos menu – tacos, quesadillas, and taquitos – mostly served with chicken or steak fillings with Mexican cheese and all the bits n' pieces that make parents happy like grilled vegetables, roasted corn, shredded lettuce, and a tomato. They doo vegetarian dishes and gluten free too.
15. The Friendly Toast—Back Bay, Burlington, (Cambridge venue closed 9/2020)
With three locations now in the Boston area, The Friendly Toast is poised for a breakfast takeover. The food is creative yet accessible, making it perfect for parents and kids. Sitting outside at the Back Bay location makes for great people watching, while indoors you'll be able to ogle the impressive collection of vintage, kitschy wares the restaurant has collected. Use Yelp and the NoWait App to avoid weekend lines or go on Wednesday evenings when kids eat free.

Photo Credit: Boston Eater
16. Picco - Boston
Picco serves one simple but tasty menu for adults and kids, consisting of assorted pizzas, spaghetti, macaroni and cheese, calzones, and appetizers. What better way to satisfy kids than plates full of carbs? End with Picco's acclaimed ice cream, of course.
Kids love their pizza and ice cream – so head on down to Picco's because they do really good pizza in wood fired ovens and homemade ice cream plus there is a great selection of beers and wines for adults. Service is friendly and kids will certainly not be picking at their food. If adults want more than pizza its no problem as they serve a range of other dishes as well.