Visiting Boston Children's Museum during COVID-19
Museum goes above and beyond to ensure safety and social distancing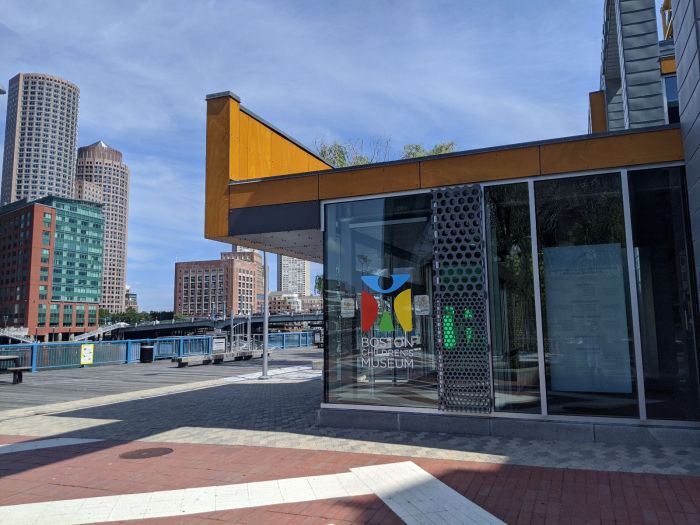 Boston Children's Museum recently opened to the public on July 22, with impressive new safety protocols and reserved, timed visitor slots. We stopped by this week to check things out and we had a great experience.
The Museum is operating with significantly reduced visitor capacity. You must reserve a ticket in advance, selecting one of two specific time slots. (10am - 12:30pm or 2pm - 4:30pm). The downtime between each timed session is used for deep cleaning.
Loose parts and manipulatives in each exhibit will be removed and replaced with a fresh set at the beginning of each play session. All high touch areas and bathrooms will be cleaned and disinfected.
High traffic areas will receive electrostatic cleaning. For details on the museum's extensive cleaning practices take a look at the Museum Cleaning Procedures.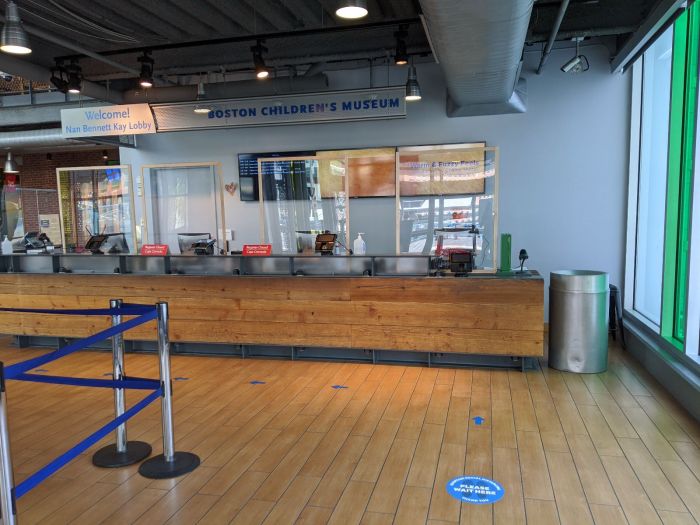 Upon arrival, you'll be welcomed by Museum staff, who are now behind plexi-glass as they check you in. Entry is one way only through the front doors, and exiting visitors go one-way out the side to Congress Street.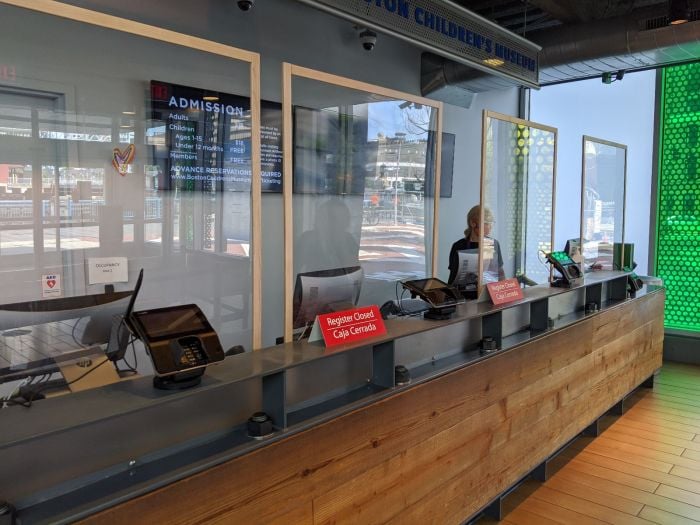 Helpful signage abounds, with arrows & social distancing stickers on the floor to help guide visitors throughout the museum.
All visitors to the Museum, with the exception of children under two years, are required to wear a mask while in the building.
Sanitizer and hand washing stations have been made readily available at every turn. In addition, outside air is continually being recirculated into the building.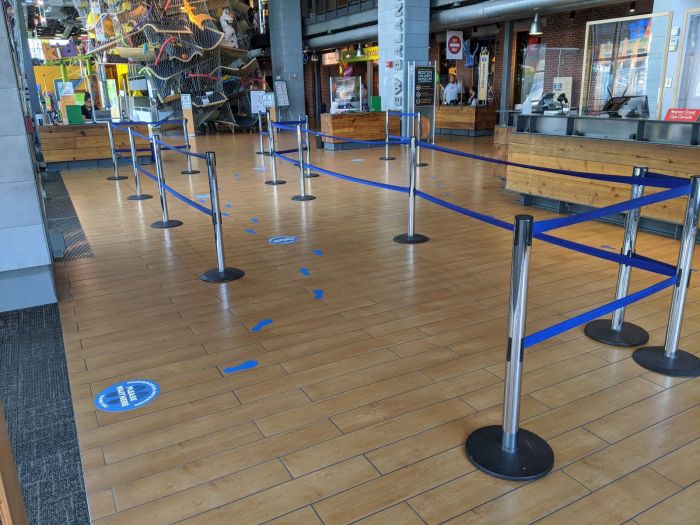 Several exhibits will remain closed to adhere to distancing and cleaning protocols including, the Japanese House, The 0-3 Playspace, and The New Balance Climb - which, is now cleverly being used as a giant game of I-spy until it can be safely reopened..
The large air-conditioned foyer is a great play to relax before or after your visit, and kids can find all sorts of whimsical, familiar characters and objects within the playspace.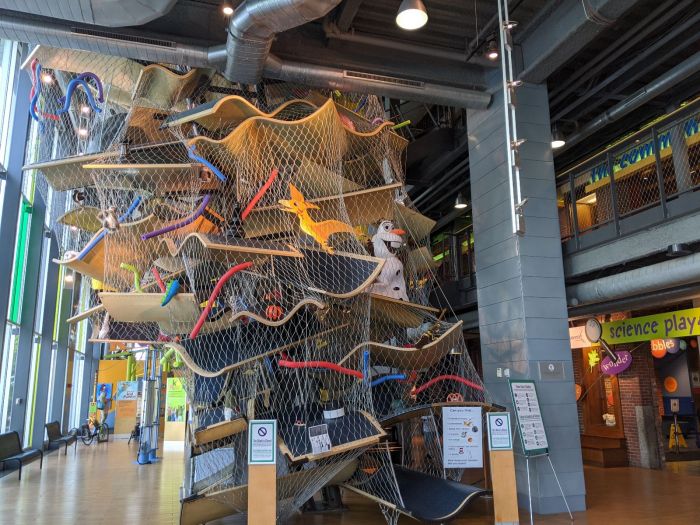 As mentioned earlier, abundant signage and information can be found throughout the exhibits, as well as helpful staff and plenty of hand washing stations.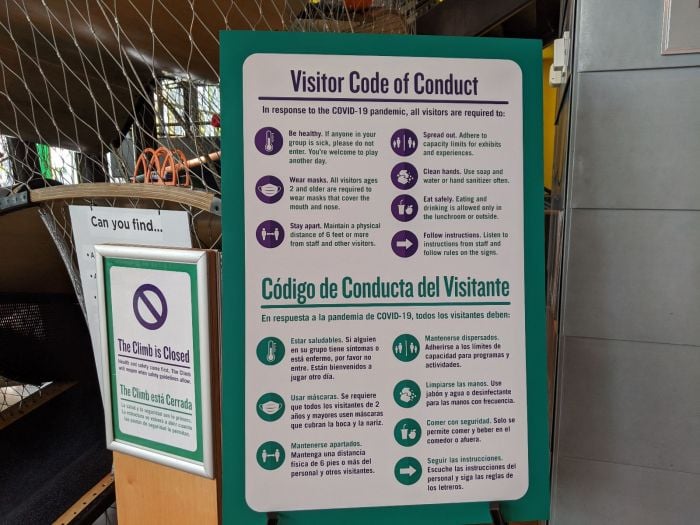 First stop is the bubble room, where you are greeted by a staff member with hand sanitizer and a visitor count to make sure the allotted number of people are in each room. The bubble room has a limit of 3 small groups at a time which allows for plenty of space.
As you leave the exhibit, container bins are available for any manipulatives that were used, (bubble wands, etc); place any used items in the red bins and they will be cleaned.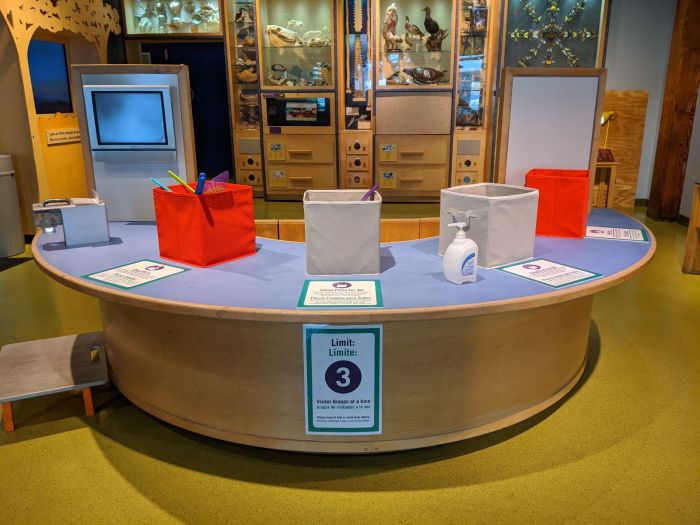 One thing to note, is that water aprons are no longer provided, so if you plan to visit the bubble room and/or the water table area, we suggest that you bring a change of clothes, (in the event some of the fun splashes a bit on to your child's clothing).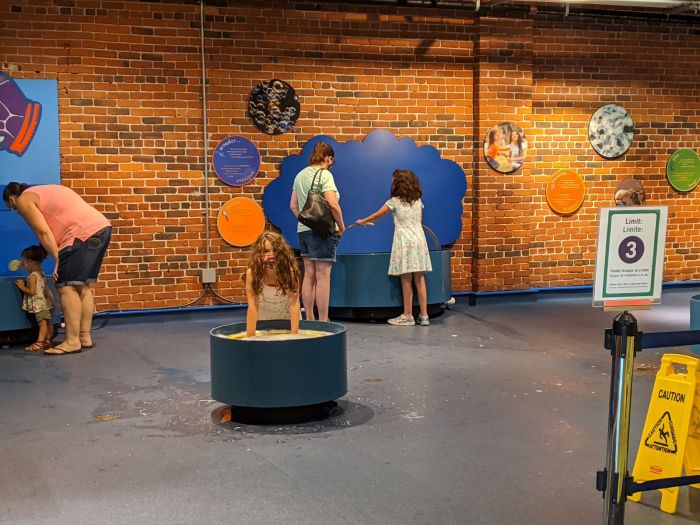 Elevators are limited to 2 groups at a time and have helpful stickers on the floor inside to promote safe social distancing. The elevator buttons, are self cleaning via some sort of electrostatic magic that I don't fully understand - but it's a cool concept! Personally, I've always chosen to push elevator buttons with my elbow.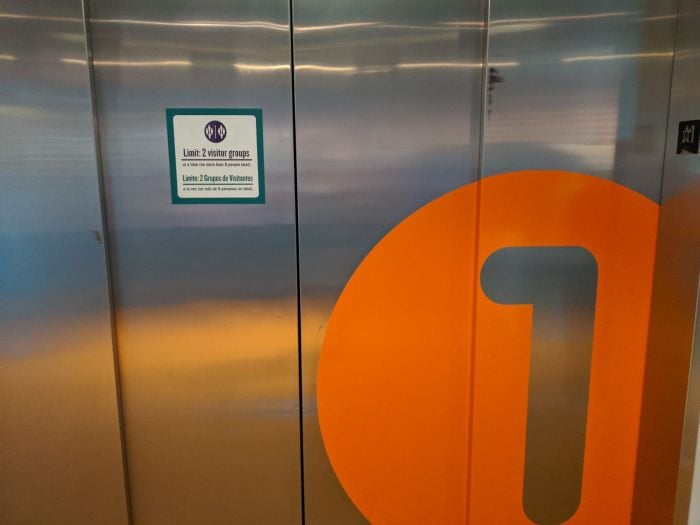 This great glass elevator has one of the coolest views of the Fort Point Channel buildings and the museum's decorative glass panels. It's hard not to be happy in here.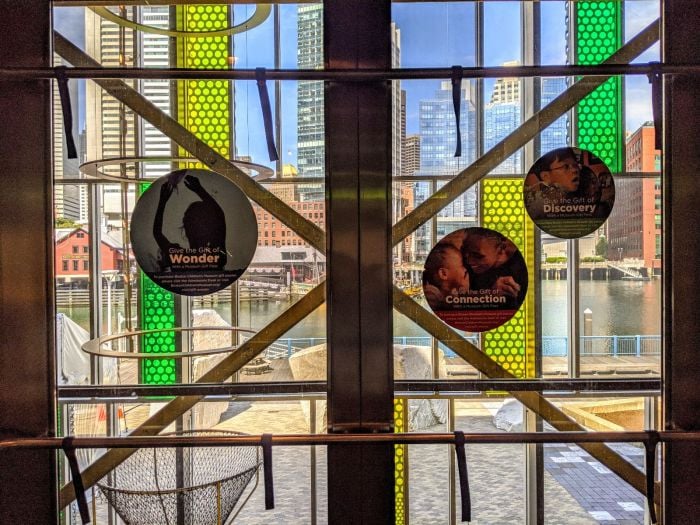 Upstairs at the Power Station, kids can enjoy some one-on-one time in the basketball room and on the rock climbing wall. These areas, as the signs show, only allow for 1 visitor group at a time and basketballs are cleaned after each use.
During my visit, from what I observed, the kids and families that were in the museum all appeared to be happy, engaged, and very much at ease. It's refreshing to be able to get out of the house these days and be able to socially distance successfully.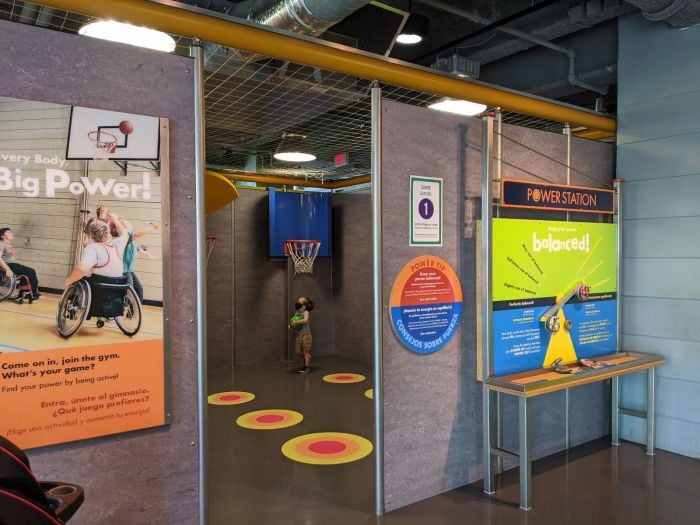 The timed entry slots and the reduced capacity of the museum really make visiting an enjoyable adventure. The staff clearly put a lot of time and thought into these safety protocols, and it shows.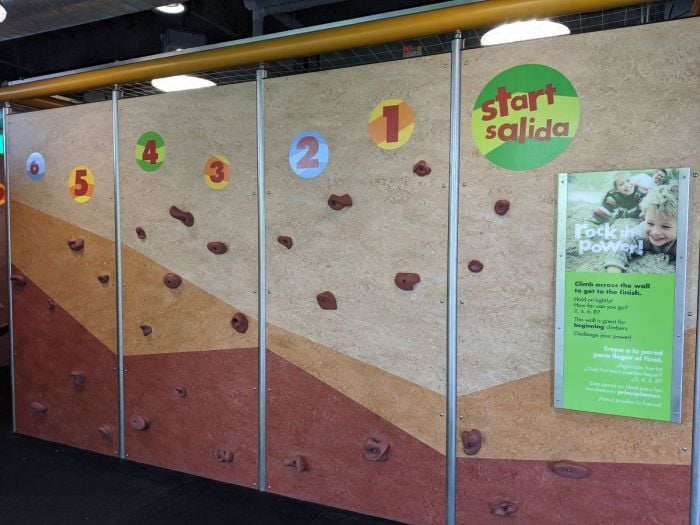 In each and every exhibit room, you will find one or more staff on hand working hard to clean areas immediately after use. I felt very comfortable throughout my entire time here.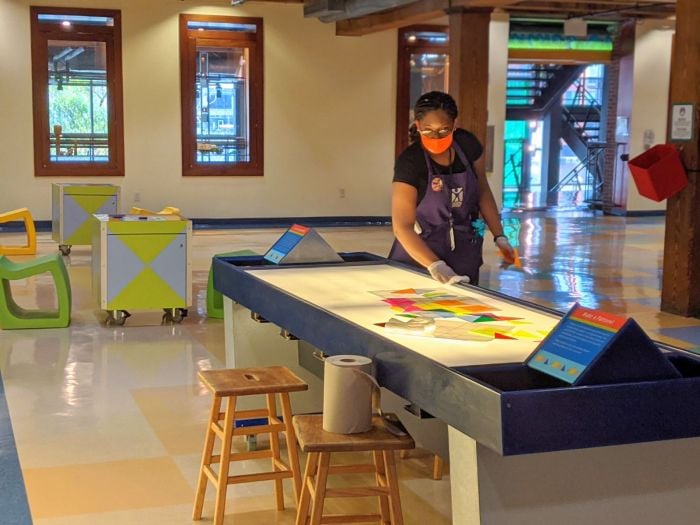 The Keva blocks creative lab now has a station with individual boxes of blocks that are given to each visitor. Once you and your child are done making your architectural masterpieces, you hand in your bucket and those blocks are all immediately cleaned by a friendly staff member.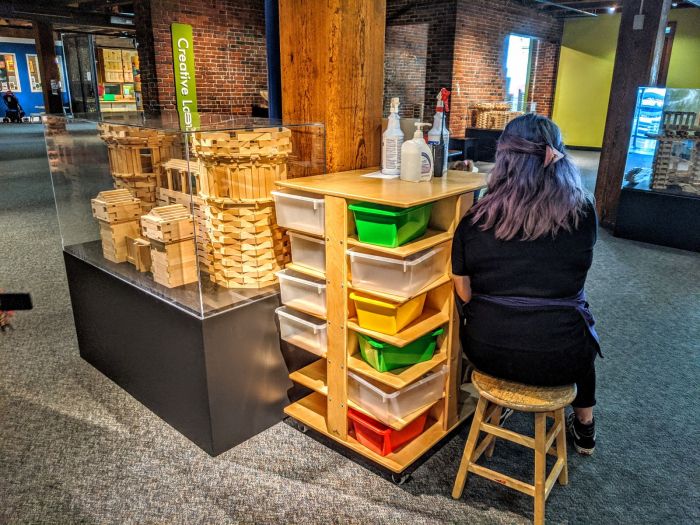 For extra piece of mind, parents can also utilize these handy wipe stations that are found near each room.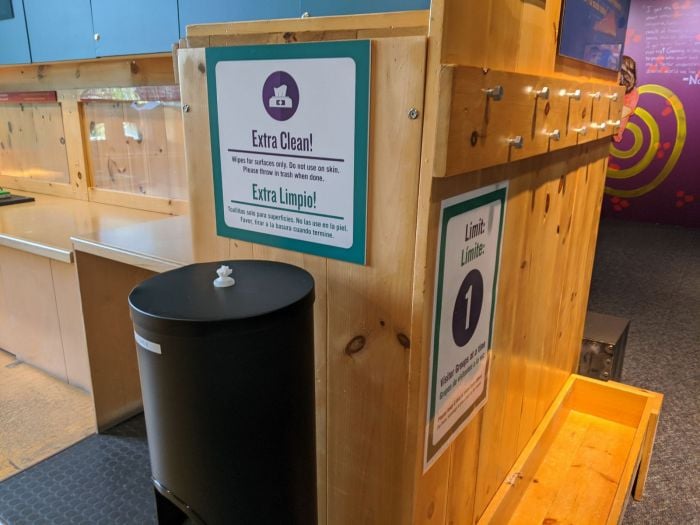 You can see that the spaces are open and that the limitations on how many groups allowed in each exhibit really make for an inviting place for kids and families to play.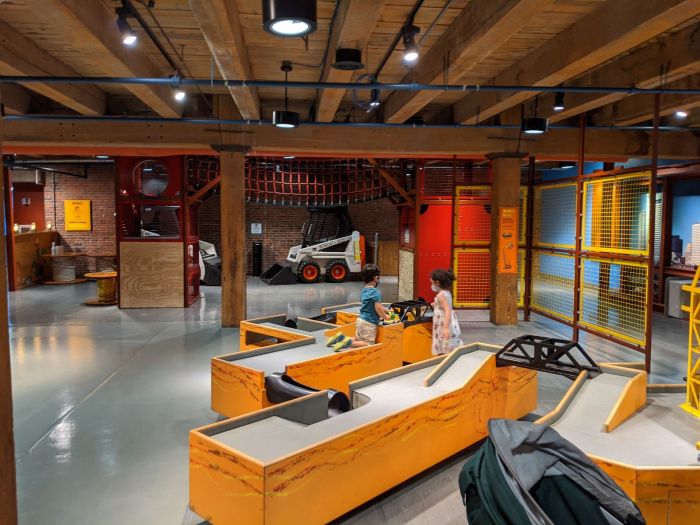 After being in quarantine for so long, the colorful backdrop of the museum invigorates creativity and learning; whether it's a shadow box behind plexi-glass, or interactive play areas for touch and motor skills. It's a clean and a refreshing place to be.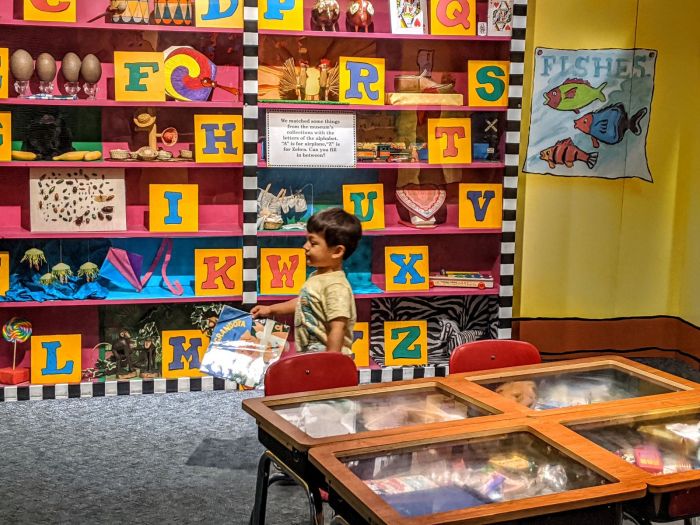 Dedicated staff are here cleaning some fruit from the supermercado. Note again, the red bins for "used manipulatives", soon to be cleaned, sanitized and ready to go for the next visitors to enjoy.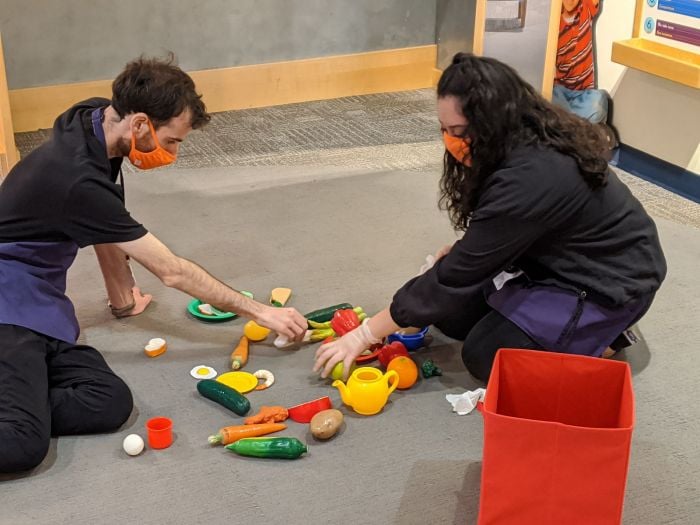 The Art Lab is open and allows for 2 groups at a time to come in for a fun, guided art project. An art educator is on hand to instruct each day's project.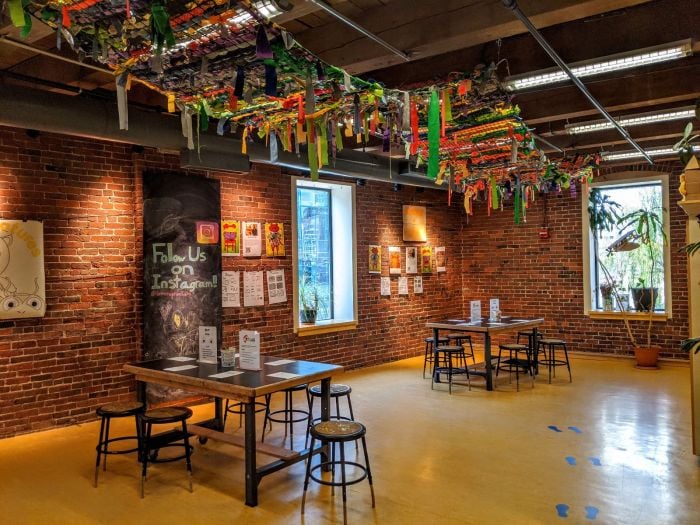 Finally, once your timed slot is done, you will exit out the side door for one-way traffic flow, which will bring you out near Congress Street.
Just outside, you can continue your day of fun at Martin's Park playground, located next to the museum along the Fort Point Channel.
If for some reason, you wish to leave and come back within your allotted ticket window, just ask for a wrist-band and you can re-enter within your time window.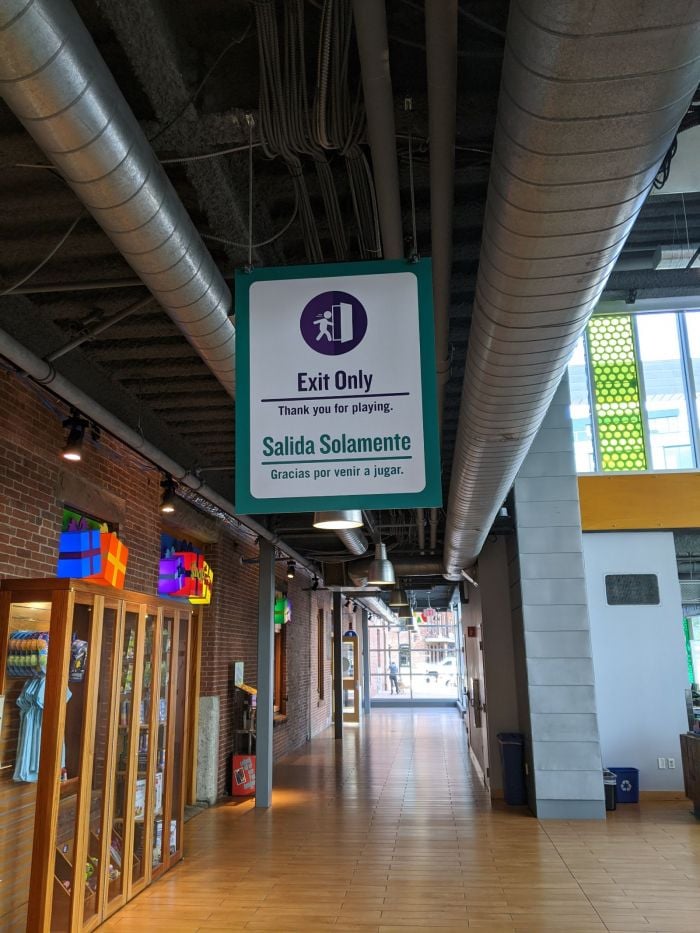 Overall, we were extremely impressed with the Boston Children's Museum's new COVID-19 protocols, and felt genuinely comfortable during our visit. Now, I need to go home and figure out how to keep my own house this safe and clean. Well done!
The Boston Children's Museum is just one of many amazing Boston Museums. A visit to each one will reveal it's very own unique adventure.
Boston Children's Museum Current Hours
Wed. - Sun. with 2 time slots:
10:00am - 12:30pm and 2:00pm - 4:30pm
Purchase Advance Timed Tickets
FAQ
Museum Cleaning Information
General Reopening Overview
Detailed FAQ
Getting There - Transportation & Parking
The Boston Children's Museum is very proximate to public transportation. It is a short walk from South Station (MBTA Red Line and Commuter Rail) and the MBTA Silver Line.
Looking for convenient places to park near the Boston Children's Museum? We highly recommend using the SpotHero app or the ParkWhiz App to find the most cost-effective parking spot; however the closest parking garage is located on Stillings Street.
Parking tip: Parking on Sleeper Street— (directly behind the Museum) —is for residents only. Your car is subject to towing if you do not have the correct resident permit parking sticker. It is best to find a garage.
Boston Children's Museum is just one of many amazing Boston Museums. A visit to each one will bring it's own unique adventure. A Museum visit is also a terrific activity when you are faced with a rainy day in Boston.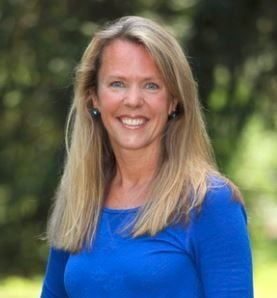 In addition, you can find lots more family-friendly events near Boston each week on our Boston events calendar, and in our our popular things to do this week newsletter.
Stacey Sao has been the Managing Director of the family-friendly events and activities website, BostonCentral for almost 20 years. She continues to enjoy discovering and exploring new places to visit in the Greater Boston area.