William Forsythe: Choreographic Objects Exhibit at the ICA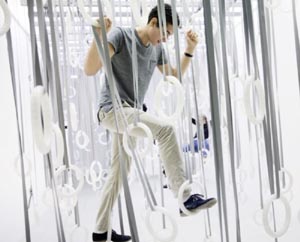 The ICA presents an interactive exhibition of obstacle course inspired objects, video installations, and intriguing sculptures designed by the internationally celebrated choreographer William Forsythe.
The exhibition features large-scale installations, including several works developed for the ICA.
Via the artist's instructions for action posted on the wall next to the works, visitors are invited to move freely through the performative exhibition and generate an infinite range of individual choreographies.
What you'll be greeted with at this artsy obstacle course is a set of instructions. Your challenge: make it from one side of the room to the other by swinging from ring to ring, without touching the floor. This, let us tell you, is way more challenging than it looks.
In addition to the hanging rings, there are other interactive delights inside the exhibit. In one room, a camera records your movements, then plays them on a giant video screen after muddling them with a wacky, wavy algorithm.
In another, the ceiling has been lowered to 30 inches, and you're invited to crawl and roll around in the claustrophobic space. One room has been filled with swinging pendulums, powered by pneumatic pistons that pop and hiss overhead, and your job is to waltz around the room without bumping into any of them.
The exhibition is accompanied by a richly illustrated publication featuring writers from the disciplines of both dance and art.
There are also two short experimental films on display that showcase Forsythe's expertise as a dancer and choreographer, as well as a room in which the artist choreographs you with creative movement instructions.
About William Forsythe
William Forsythe was born in New York in 1949, and resides in Vermont. Trained in classical ballet in Florida and New York, Forsythe joined the Stuttgart Ballett in 1973 and went on to direct the Ballett Frankfurt for twenty years. He directed the smaller, more specialized Forsythe Company, in Frankfurt and Dresden, from 2005 to 2015.
His Choreographic Objects have been exhibited globally in venues such as Tate Modern's Turbine Hall, the Venice and Sydney Biennales, La Villette/Grande Halle, Paris as part of Festival d'automne, and museums such as Wexner Center for the Arts, Columbus, Ohio, Museum fur Moderne Kunst, Frankfurt, and Hayward Gallery, London. He has received numerous awards and in 2010 was honored with the Golden Lion for Lifetime Achievement at the Venice Biennale.
---
Tuesday + Wednesday, 10 am–5 pm
Thursday + Friday, 10 am–9 pm
Saturday + Sunday, 10 am–5 pm

Closed Mondays, EXCEPT on the following national holidays:
Martin Luther King, Jr. Day, Presidents' Day, Patriot's Day, Memorial Day, Labor Day, and Columbus Day.
---
$15 general admission $13 seniors $10 students FREE members and youth 17 and under FREE for all from 5 to 9 pm every Thursday for ICA Free Thursday Nights
| | |
| --- | --- |
| Related Links | Top |
---
We make best efforts to update information, but it changes frequently, so we cannot warrant it. Please call to check William Forsythe: Choreographic Objects Exhibit at the ICA schedules, fees, and directions before making the trek. We help you, please help us. Report an Error if you find one.